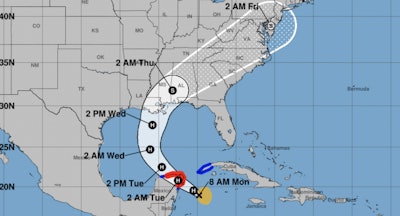 Add Zeta to the list of tropical storms expected to cause more problems for the U.S. Gulf Coast and truckers who travel to and/or through the area.
The National Hurricane Center predicts Zeta will be at or near hurricane strength when it approaches the northern U.S. Gulf Coast Wednesday. There is an increasing risk of storm surge, rainfall, and wind impacts from Louisiana to the Florida Panhandle. Residents in these areas should monitor the progress of Zeta and updates to the forecast, according to the hurricane center.
At 8 a.m. EDT, the center of Tropical Storm Zeta was located over the northwestern Caribbean Sea about 175 miles southeast of Cozumel, Mexico. Zeta is moving toward the northwest near 9 mph.