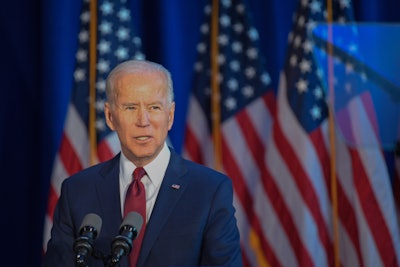 One of trucking's leading industry trade and advocacy organizations congratulated president-elect Joe Biden and vowed to be "a constructive partner" as the new administration works on the economy and infrastructure issues.
American Trucking Associations President and CEO Chris Spear issued this statement Saturday, Nov. 7:
"We congratulate President-Elect Biden and Vice President-Elect Harris on their hard-earned victory, and we look forward to working with their Administration to strengthen the economy and rebuild our national infrastructure.
"Trucking's story speaks to all of America, not one specific political party. As witnessed during the pandemic, the resilience of the American trucker is one of this country's greatest assets. Driven by core values of hard work, service and sacrifice, our industry sets out every day to deliver for the good of our nation and its people—in good times and bad.
"Just like the great industry we represent, ATA is about getting the job done. While some exist in Washington to perpetuate problems, we come to the table prepared with solutions. We value sound data and honest dialogue. Above all, we commit to working with anyone willing to work with us.
"As the Biden Administration rolls up its sleeves and begins the heavy lift of rebuilding America's ailing infrastructure, it will find a constructive partner in ATA. We stand ready, willing and able to get the job done."
ATA has been a vocal supporter of President Donald Trump, including contributing to his campaign and also having its trucks and members of America's Road Team Captains at the White House and various Trump events.
The ATA for sometime has been critical of Congress and the White House for not making progress on funding for infrastructure projects.