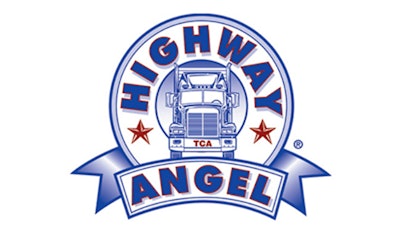 Royford Burris, a trucker for Stevens Transport from Lauderhill, Florida, was named a Highway Angel by the Truckload Carriers Association for stopping to help at the scene of a two-car collision that resulted in multiple fatalities.
TCA explains:
The evening of Aug. 23 is one that Royford Burris will never forget. He was traveling on U.S. Highway 63 near Walnut Ridge, Arkansas with a load bound for Orlando, Florida. He had just finished a call with his wife to focus on his descent down the mountainous winding road when he saw two cars in the middle of the road. One was on fire. A silver van had drifted over the center line. A red car coming from the other direction wasn't able to swerve to miss it and collided, head-on with the van. The car was in flames.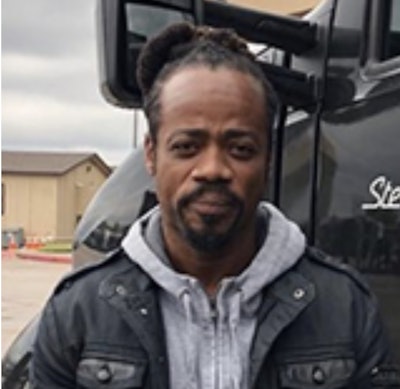 As he approached the scene, Burris safely pulled over and turned on his flashers. A pickup pulled up at the same time. "We were the first ones on the scene," said Burris. "We grabbed our fire extinguishers and ran to the red car." After they extinguished the flames, Burris and the motorist discovered the driver's body lying about 20 feet away. "It was horrible," he said. Other cars were beginning to approach the scene. "I didn't want anyone else to see that." He ran back to his truck and grabbed a towel to cover the body.
Burris and the other driver then rushed to the van which was badly mangled. The woman in the driver's seat was deceased. Burris carefully lifted her out of the vehicle. EMTs had arrived and put her on a stretcher. He learned her 6-month–old child who had been in a car seat in the back had also died. The only survivor was a girl who appeared to be 13 or 14 years old. She was trapped in the front passenger seat. "She was crying and in pain," said Burris. "She said she couldn't breathe. I said, 'Look at me, I'm not going to let you die, I promise.'" He called a police officer over and asked him to help. Burris kicked out the back door and climbed in to retrieve her. "I was trying to break the seat apart. I ripped the seatbelt out. I don't know where I got the strength," he said. Burris struggled to free her and was finally able to extract her through the window and handed her to the officer.
"I've never seen anything like it," Burris shared with TCA. "I'm sorry I couldn't save the others. I had just told my wife that things were going well and the road was so calm. Once I saw those cars, I knew that it was my duty to help in any way I could."
Later, as he was leaving the scene, officers thanked him for his heroic actions and offered to escort him to the nearest safe haven, which Burris accepted. He has received updates on the girl's condition and is relieved to know she is now home with her father.
"Royford is a great driver and this is just another example he sets," said Stevens Transport Company Driver Manager Kenny Harwell. "Not only is he a hardworking driver, father, and grandfather, but he is also a hero. We are extremely thankful to Royford for setting the standards not only for his fellow drivers but for all of us at Stevens. He is a true asset to Stevens and I'm proud to work with him day in and day out."
TCA has presented the driver with a certificate, patch, lapel pin, and truck decals. Stevens Transport has also received a certificate acknowledging their driver as a Highway Angel.
Since the program's inception in August of 1997, nearly 1,300 professional truck drivers have been recognized as Highway Angels for the exemplary kindness, courtesy, and courage they have displayed while on the job.
The program is made possible by Presenting Sponsor, EpicVue, and Supporting Sponsor, DriverFacts.