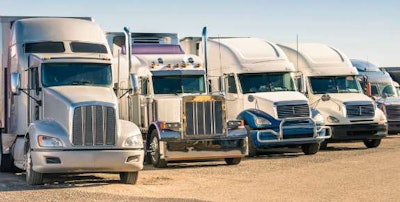 The Federal Motor Carrier Safety Administration proposes revising its regulatory guidance on recording hours of service time as a "yard move," which can be recorded as "on-duty, not driving" rather than "driving" time.
Specifically, the agency proposes to replace Question 9 to 49 CFR 395.2, which asks how a driver's time should be recorded when they drive on streets and highways during the week and jockeys in a yard (private property) on weekends.
The proposed question is: "Under what circumstances may a driver classify the operation of a commercial motor vehicle (CMV) as a yard move and record it as on-duty not driving time?"
The answer to the question – which the agency notes is not legally binding and is just guidance to help clarify the regs – is that a driver can record time operating a truck for yard moves as on-duty not driving only if the movement occurs in a confined area or on private property.
Examples of properties that qualify as yards, according to the proposed guidance, are:
an intermodal yard or port facility
a motor carrier's place of business
a shipper's privately-owned parking lot
a public road, but only if and while public access to the road is restricted through traffic control measures such as lights, gates, flaggers or other means. (For example, if a driver must operate on a public road briefly to reach different parts of a private property, the movement may be considered a yard move if public access is restricted during the move.)
Properties that would not qualify as yards include, but are not limited to:
public roads without the traffic control measures listed above
public rest areas
FMCSA is seeking public comment on the proposed guidance, specifically in determining which types of properties are and are not "yards." Comments can be made here through Feb. 3.