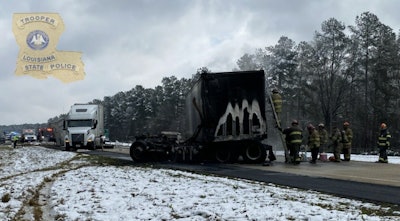 A crash involving two tractor-trailers in Louisiana today prompted authorities to close part of Interstate 20 for several hours. Westbound traffic was detoured on U.S. Highway 80 and Goodwill Road.
There was no report as to the cause of the crash or if there were any injuries.
Snow spread across Louisiana, Mississippi, Alabama, Texas, and New Mexico. As much as 8 inches fell on west Texas and New Mexico.