Four tractor-trailers were among 13 vehicles involved in two related crashes on Interstate 90 in South Dakota Monday, Jan. 18. The driver of one of the rigs was injured and is facing charges.
The South Dakota Department of Public Safety said 13 vehicles were involved in the accidents in Sturgis, South Dakota Monday afternoon. Combined, the mishaps interrupted traffic for three-and-a-half hours.
The first crash occurred when an eastbound Freightliner tractor-trailer did not slow down for a snowplow in the passing lane and a Peterbilt semi in the right lane. The Freightliner struck the snowplow and then a guardrail before going into the ditch. The driver of the Freightliner sustained minor injuries.
The Peterbilt jack-knifed across both eastbound lanes of traffic, according to police. Three other vehicles took the median to avoid hitting the Peterbilt. SDDPS said none of those vehicles were involved in any collisions and the occupants did not sustain any injuries.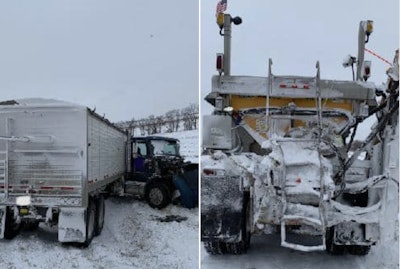 Seven more vehicles were involved in the secondary crash when they attempted to avoid collisions but either hit other vehicles or the guard rail. The vehicles included two pickups, a pickup trailer, two tractor-trailers, a compact car, and a FedEx truck. Three drivers from the secondary crash sustained minor injuries.
Police believe driver inattention is thought to be the reason for the initial crash and charges are pending against the driver of the Freightliner. Weather conditions at the time appear to be the cause of the secondary crashes.
The identities of those involved were not released by police.
Today, South Dakota troopers responded to a crash near mile marker 252 on Interstate 29 where a tractor-trailer ran into the back of a snowplow.