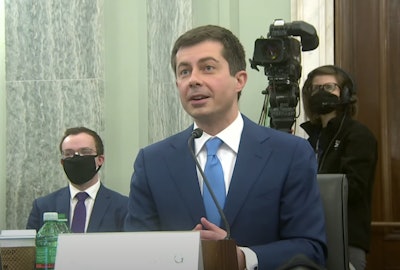 President Joe Biden's nominee for Secretary of Transportation testified Thursday, Jan. 21, for just shy of three hours before a Senate committee as part of his confirmation process.
In his appearance before the Senate Committee on Commerce, Science & Transportation, Pete Buttigieg fielded questions on several trucking-related topics, and said the department would look into them, giving no real specific answers. These included:
hours of service changes
electronic logging device waivers for livestock haulers
meal and rest breaks for drivers
He also fielded questions about how to fund a massive infrastructure President Joe Biden has proposed as part of an economic stimulus package in response to the COVID-19 pandemic.
Committee members were mostly congenial towards the former mayor of South Bend, Indiana and several said they looked forward to working with him, suggesting his confirmation.
"You know what the hell you're talking about, and that's pretty damn refreshing," said Sen. Jon Tester, a Democrat from Montana. Tester, according to USA Today "put on a clinic on how a nominee should work and act."
Also on Thursday, the American Trucking Associations weighed in on Buttigieg's nomination. ATA President and CEO Chris Spear said in a statement:
"ATA believes Mr. Buttigieg will make an excellent Transportation Secretary, and we urge the Committee to swiftly report his nomination favorably to the full Senate for consideration.

"Having served as the mayor of a city sitting at the crossroads of America, Mr. Buttigieg has had an up-close and personal look at how our infrastructure problems are impacting Americans—and how important it is to solve them. As he conveyed throughout his testimony today, greater federal investment in infrastructure is critical to enhancing transportation safety and growing our ailing economy. That work begins with securing immediate funding to address our short-term needs over the next decade while we develop new, technology-driven solutions over the long-term, and ATA stands ready to assist the Biden Administration in advancing a robust highway funding bill across the finish line."
Likewise, the organization representing this country's travel centers and truck stops announced its support of Buttigieg. Lisa Mullings, president, and CEO of the National Association of Truck Stops Owners said:
"NATSO is ready to work with Mr. Buttigieg on an array of transportation issues, including the need for long-term, sustainable highway funding and the need to support policies that encourage off-highway businesses and communities to thrive and evolve. Fundamental to this effort is maintaining existing policies that prohibit commercialization of Interstate rest areas and the longstanding ban on tolling existing Interstate Highways.
"NATSO is also eager to work with Mr. Buttigieg on policies that further encourage private-sector investment in alternative fueling infrastructure, such as electric vehicle charging, to more quickly bring alternative fuels to market."
In a statement, NATSO also said it looks forward to partnering with Buttigieg on the Biden Administration's infrastructure initiatives and goals. NATSO said it is encouraged that the Biden Administration considers infrastructure investment as a key driver of economic and job relief and one of its top priorities. NATSO also is pleased that Mr. Buttigieg recognizes the important role that Federal infrastructure policy plays for local businesses and communities that thrive because of the Interstate Highway System.
Another major trucking organization also supports Buttigieg's confirmation. The Truckload Carriers Association earlier said:
"Mr. Buttigieg will bring a unique perspective and ambitious ideas into this role, and we look forward to working with him and the rest of the Biden Administration to move the needle on infrastructure and other issues of importance to truckload carriers."