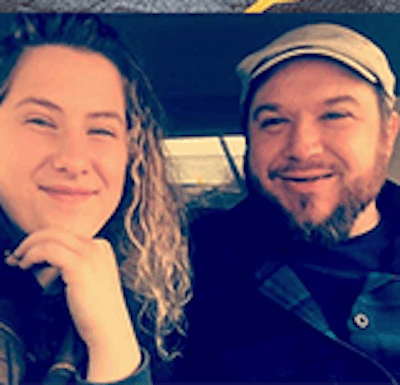 Two professional drivers for Hirschbah Motor Lines were recently honored for helping victims of a vehicle fire.
The Truckload Carriers Association named Kloe Myers and John Dowdy, from Thomaston, Georgia, as Highway Angels for stopping to help motorists whose vehicle caught fire.
TCA explains:
It was March 16, 2020 and Myers was behind the wheel as her partner, Dowdy, was in the sleeper. She had just passed through a weigh station off Interstate 75 just outside Atlanta when she saw people in distress on the side of the road with the bed of their pickup truck on fire. "There were two males and a female," said Myers. "Only one person had stopped to help."
Without hesitation, she knew she had to help them. She safely pulled over and maneuvered her truck to force traffic around the scene. She awakened Dowdy and grabbed the fire extinguisher as he got dressed. Myers was able to quickly extinguish the flames as Dowdy helped the others pull boxes and bags of smoldering items out of the pickup bed. "We were trying to prevent the fire from spreading to the car they were towing," Myers said. Dowdy ran to their truck and handed off gallon jugs of water they were carrying. The group used them to douse everything and stomped out smoldering embers. "I ruined a pair of shoes, but it was worth it," added Myers.
The driving team learned the three motorists were in the process of moving. "We were able to prevent damage to the car, but they were pretty upset that they lost everything they were moving, mostly personal items and all their kids' toys, but they thanked us for stopping," said Myers. "It all happened so fast." First responders arrived after the fire was out.
Myers has been driving for less than two years. She and Dowdy have been driving together for over a year. They've come upon fires in the past and try to always be prepared. "I try to help everyone I can when I see them broken down on the road," she said. "If I can't stop, I feel bad. The side of the road isn't always big enough for me to pull over."
TCA presented the driving team with a certificate, patch, lapel pin, and truck decals. Their employer has also received a certificate acknowledging the team as Highway Angels.
Since the program's inception in August 1997, nearly 1,300 professional truck drivers have been recognized as Highway Angels for the exemplary kindness, courtesy, and courage they have displayed while on the job.
The program is made possible by Presenting Sponsor, EpicVue, and Supporting Sponsor, DriverFacts.