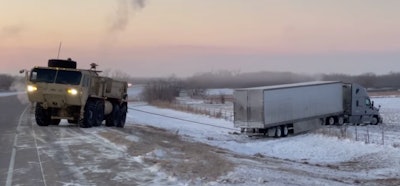 Oklahoma Highway Patrol
It's the same news, but just a different day: record-setting winter storms are tormenting truckers, knocking out power, causing numerous accidents, closing highways, and even causing some truck stops to curtail services. Fully 73% of the U.S. is covered in snow, according to Accuweather, and more is on the way.
Some of the coldest temperatures and most snow in decades have thrown all of Texas, a key trucking state, into the deep freeze. Some 4.4 million people are without power, leaving the Texas governor to call for an investigation into the company that oversees that state's power grid.
In nearby Oklahoma, the National Guard was called out to help with rescuing travelers -- including some truckers -- from snow-covered and icy highways. Truckers making their way across much of the South complained about difficult driving conditions on interstates.
The National Weather Service warns:
"An area of low pressure will develop over southern Texas this evening. This low pressure will go onto produce heavy snow and ice from the Southern Plains, through the Mississippi Valley tomorrow (Wednesday) and into the Northeast by Thursday. An area of 3-6 inches of snow is possible for much of Oklahoma and Arkansas through tomorrow. Between 0.1 to 0.25 inches of freezing rain may fall over eastern Texas through northern Louisiana/southern Arkansas/western Mississippi."
As a result of all of the snow, ice, wind, and cold, each of the three major truck stop chains – Love's, TA-Petro and Pilot – have long lists of locations that are either closed, don't have power, are low on fuel and more.
According to Pilot, the company has 34 locations in Texas, New Mexico, Louisiana and Mississippi that are closed due to power outages as of Tuesday afternoon. Drivers can find an updated list of closed locations here.
TA-Petro, as of noon Eastern time Tuesday, has 23 locations impacted by storms in Alabama, Louisiana, Mississippi, Oklahoma, Tennessee, Texas and Virginia. Many of these locations are open but have other issues, including closed restaurants, diesel pumps down, TA Truck Service locations closed, and more. An updated list of TA-Petro closures can be found here.
Finally, Love's Travel Stops has two locations completely closed, 33 locations with power outages, 15 locations with diesel outages, and numerous other locations with water outages, restaurant closures and Love's Truck Care closures. The full list of impacted Love's stores can be found here.
"A vast majority of Love's Travel Stops, Speedco and Love's Truck Care locations are operating as normal. However, due to the massive winter storm moving through the United States, there are business disruptions and power outages at select Love's locations," said Chad Previch, Love's external communications manager. "In addition, because of the significant number of roads and highways closed, fuel terminal closures in many states and the safety of our fuel delivery drivers, diesel is unavailable at a few Love's locations. Love's teams are safely and quickly working with internal teams, utility companies and contractors to get locations back up and running to serve our customers. At this time, we are not limiting the amount of diesel that can be purchased at our locations."