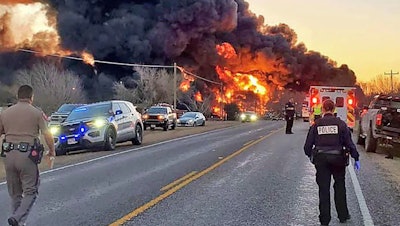 (Chief Lonnie Gosch/Cameron Police Dept.)
The driver of a tractor-trailer that collided with a freight train in Texas this morning escaped injury.
The collision occurred at about 7 a.m. local time near Cameron, which is about 75 miles northeast of Austin between Temple and the Bryan-College Station area.
The train was loaded with coal and gasoline. The truck reportedly hit one of the cars loaded with gasoline. Five cars derailed. Several caught fire and exploded.
Some local residents were evacuated from their homes due to a concern over possible hazardous materials.
No members of the train crew were injured.