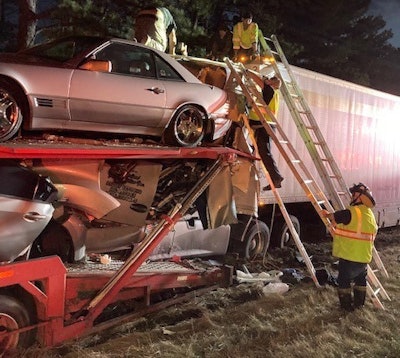 Indiana State Police photos
A truck driver from Tennessee died in a crash between two tractor-trailers that occurred Wednesday, March 10 on eastbound Interstate 70 near the 19 mile marker east of Terra Haute.
The Indiana State Police issued a statement that said they are investigating a crash between two tractor-trailers that occurred at about 6:35 p.m. They say a 2012 Freightliner driven by Emmanuel Ramos, 35, of Philadelphia, was traveling in the driving lane of I-70. Ramos was traveling about 60 mph when he was struck in the rear by another tractor-trailer, according to the state police.
The force of the collision caused both tractor-trailers to leave the interstate on the south side of the highway and into the wood line. The second tractor-trailer was driven by Carey W. Baker, 48, of Sevierville, Tennessee. Baker was pronounced deceased at the scene by officials from the Clay County Coroner's Office.
A passenger in Baker's truck, Ian M. Windom, 26, of Sevierville, Tennessee, was in the sleeper berth at the time of the crash and received neck and back injuries from the impact of the accident, according to police. Windom was taken to a hospital in Indianapolis. His injuries were considered non-life threatening.
Ramos was transported by ambulance to Terre Haute Regional Hospital with non-life-threatening injuries.
Drugs and alcohol are not believed to be contributing factors in the accident, according to police.
Tesla wedged under tractor-trailer; 2 injured
Two individuals were injured after the vehicle they were struck a semi-truck in Detroit.
A man and a woman driving in the area of Waterman and Fort streets when their Tesla they were in struck the side of the trailer early Thursday morning, March 11.
Both the driver and passenger were taken to the hospital with injuries.
The semi-truck driver was unharmed.
Police continue to investigate the cause of the crash. None of those involved were identified by police.