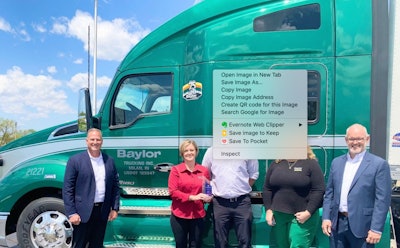 Baylor Trucking, a family-owned nationwide truckload carrier specializing in expedited dry van and refrigerated service, has once again been recognized by Walmart as a Carrier of the Year.
Baylor Trucking has been recognized as a Carrier of the Year by Walmart four times. This year it received its second consecutive award as Diversity Carrier of the Year. This category recognizes a top-performing third-party logistics carrier that is a woman, minority or veteran-owned company.
Walmart Carrier of the Year recipients are evaluated on key performance criteria that include lane compliance, daily on-time delivery performance, claims prevention, effective communication, and customer service.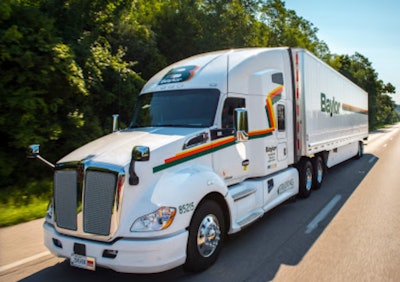 Cari Baylor, president of Baylor Trucking, said doing business with Walmart is a testament that the retailer lives its four guiding principles for culture, diversity, equity and inclusion. Those principles are objectivity, transparency, data driving decisions, and accountability.
"It is always refreshing to know where you stand, and we are very grateful that Walmart puts these principles in practice," said Baylor, a third-generation owner of the 75-year-old family business. "They give carriers like Baylor Trucking the ability to flourish."
As a top-performing Walmart carrier, Baylor Trucking expanded its relationship in 2020 by 58.5% in terms of load count across Walmart's dry, refrigerated and consolidated freight networks. Baylor Trucking held fast to contracted rates and lane commitments despite an unprecedented surge in demand for the company's exception-free delivery services during the COVID-19 pandemic.
"We were able to grow our relationship with Walmart when America needed us most," Baylor said. "Integrity is a core value in our business. We always want to do the right thing. For us this means honoring our lane and rate commitments with customers and making sure that our professional drivers always know we are there to support them."
During the past year, Baylor Trucking increased pay and benefits for driver teams and solos.
"Investing in our professional drivers keeps them vested in the success of our customers and the needs of consumers," Baylor said.
Baylor Trucking also recognized professional drivers for keeping America moving during the early months of the COVID-19 crisis. The company awarded Walmart gift cards to those who worked from March to June 2020. The gift amounts ranged from $300 and $500 and were based on every mile that drivers ran during this period.
"Besides using cards for their families, many of our professional drivers gifted their cards to others in need who were negatively impacted by the pandemic," Baylor said.
Baylor Trucking is holding daily Walmart gift card raffles this week for professional drivers and its operations staff in celebration of receiving the 2021 Walmart Diversity Carrier of the Year award.
"The past year presented the transportation industry with many challenges. We appreciate carriers including Baylor Trucking for providing critical services and creative solutions when it was desperately needed" said Ken Braunbach, Vice President of Walmart Inbound Transportation. "We are proud to recognize Baylor Trucking as Walmart Diversity Carrier of the Year."
Baylor operates a fleet of 264 Kenworth, Peterbilt, and Volvo tractors that power 53' dry van and refrigerated trailers throughout the lower 48 states.