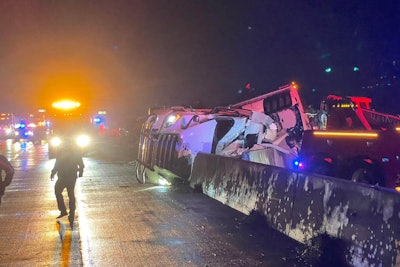 High winds some authorities say may have been a tornado toppled several tractor-trailers and other vehicles on northbound Interstate 35E Monday night, May 3. Several other trucks were pushed into the center divider.
The mishaps took place between Waxahachie and Forreston, about 30 miles south of Dallas.
TV station WFAA reports three people were taken to the hospital, but their conditions weren't immediately known.
RELATED: As worst season for tornadoes approaches, here's how to stay safe on the road
The winds were part of storms that blew across Texas and the South Monday night and today. More than 12,000 homes and businesses in Texas still had no power as of 7 a.m. Tuesday, according to poweroutage.us. Across the South, more than 100,000 customers in Arkansas, Tennessee and Kentucky had no electricity this morning.
Severe thunderstorms are forecast for much of the rest of the South today.