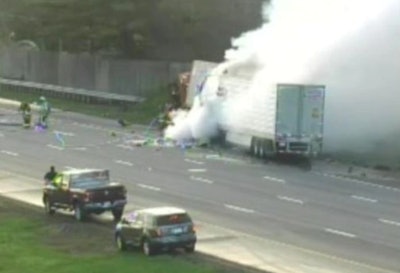 Both drivers escaped serious injury in a collision of two tractor-trailers in Connecticut Friday, April 30.
One tractor-trailer reportedly drifted off Interstate 84 East in Vernon, about 12 miles northeast of Hartford, about 7 a.m. striking a second tractor-trailer parked on the side of the interstate.
Police said a tractor-trailer driven by Galdino Martinez Esparza of California drifted onto the right shoulder and struck the parked truck, which was driven by Rhubia S. Padovani of New Jersey. The crash caused a fire in Esparza's truck.
The fire burned for about an hour and caused the eastbound lanes of I-84 to be closed for more than an hour.
Police continue their investigation.
Trucker electrocuted
Kansas Highway Patrol say a tractor-trailer driver was hospitalized after he was electrocuted while raising his trailer's dumb bed at a job site.
KHP says the unidenified driver was at a construction zone on K-4, between Meriden and Valley Falls, Friday morning, April 30, when he lifted his trailer and it hit a power line.
According to KHP, the driver jumped from his truck as it caught fire, but was electrocuted. The driver's condition was not released.