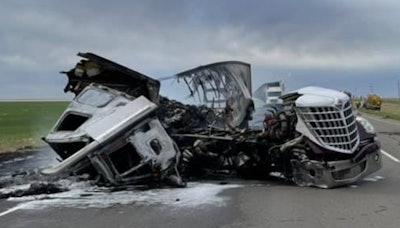 The drivers of two tractor-trailers were injured in a crash and fire in northern Texas Wednesday, April 28.
According to the Sherman County Sheriff's Office, the crash occurred about six miles south of Stratford in the northbound lane of US 287. Stratford is located near the Texas-Oklahoma border about 80 miles north of Amarillo.
The Texas Department of Public Safety reports one truck was parked on the shoulder of the highway when it was struck by the second one. Police say both trucks caught fire, but their drivers managed to escape the blazes.
A media report on the accident said both drivers were hospitalized. The driver of the truck that struck the parked one is said to have suffered life-threatening injuries.
Neither driver was identified.