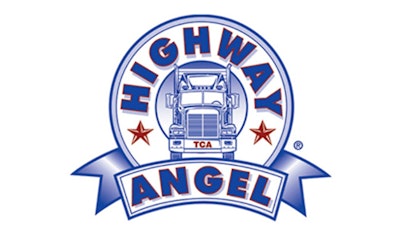 Twin brothers who have been driving to=gether for more than 13 years have been honored for their efforts at the scene of an accident in a rural, all-but-inaccessible location in Oklahoma.
The Truckload Carriers Association has named Calvin and James (Corey) Williams, from Port St. Lucie, Florida, as Highway Angels for rushing to the aid of a couple whose vehicle veered off the road and into a steep ravine, crashing into a tree.
The TCA explains:
Around 4 a.m. on Feb. 21, Calvin was on Interstate 44 near Bristow, Oklahoma when a vehicle passed him at a high rate of speed and then veered off the road and disappeared down a steep embankment. Calvin's co-driver, his twin brother, Corey, was in the sleeper. They also had a trainee, Allen Ford, with them. Calvin stopped the truck and woke up Corey and directed Allen to put the reflectors out behind the truck.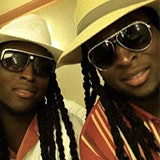 They called 911 and rushed to the edge of the road and peered down into a wooded ravine. "It was pitch black out there," recalled Calvin, but they could see a small fire about 300-400 feet from the road. The team could hear people screaming for help. Having only the light from their cell phones to light the way they ran into a barbed-wire fence and climbed over it. They then scrambled down a slick, muddy embankment. By the time they reached the vehicle the flames had died out.
"They hit a tree so hard it knocked the headlights out and pushed the motor and transmission into the cab," said Calvin. The windows were broken out and the brothers found a male passenger, conscious, lying on the ground with a serious leg injury. The female driver was about 30 feet from the vehicle. "She was bleeding and shivering and couldn't move her legs. She kept saying she had fallen asleep at the wheel. She looked like she was going into shock."
"It was 23 degrees that night," said Corey. "They were cold and wet and freezing. It was a bad situation." One of the brothers climbed back up to the truck to grab blankets. Because of the area's remote location, it was an hour before the police arrived and another hour before the EMTs reached them. "But they had no way to get down the hill and successfully bring two people back up, especially with their injuries," said Corey. One of the brothers opened a tracking app on his phone and pulled up a detailed image of the area. The crash scene was actually near an old dirt road, but difficult to get to. It took the EMTs another 30 minutes before they finally reached the injured couple.
"That was a crazy night," said Corey. "We stayed with them for four hours until the sun came up, with no jackets on in 23 degrees. When we heard those sirens, it was the best sound I'd heard all night."
"I'm glad we stopped," shared Calvin. "There aren't any houses back there. No one would have seen them from the highway. All I was thinking about was saving a human life. We didn't know what type of situation was down there. We didn't care."
The brothers have been driving together for 13 years. Calvin says he was fascinated by semi-trucks as a kid. The two decided they wanted to become truck drivers. "We want to be the best drivers we can be. We do more than just drive truck, we save lives, too."
TCA has presented the driving team with certificates, patches, lapel pins, and truck decals. Their employer has also received a certificate acknowledging their driver as a Highway Angel.
Since the program's inception in August 1997, nearly 1,300 professional truck drivers have been recognized as Highway Angels for the exemplary kindness, courtesy, and courage they have displayed while on the job.
The program is made possible by Presenting Sponsor, EpicVue, and Supporting Sponsor, DriverFacts.