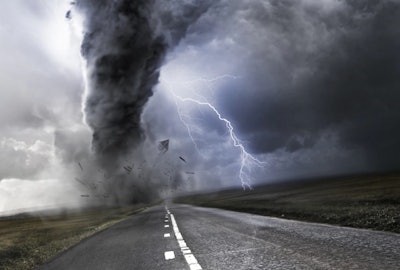 Editor's Note: The Weather Channel recently reported "... weather history shows April, May and June are the months with the most potential of having both the greatest number of tornadoes and the most intense tornadoes. The U.S. averaged 1,234 tornadoes annually from 2000 to 2019. About 54% of those tornadoes happened from April to June. The most tornadoes typically happen in May, with an average of 281. This is followed by June and April, which average 196 and 194 tornadoes per year, respectively." This story from the Truckers News archives first appeared in She Drives last June, but its advice is as relevant and important today as the most violent weather season begins.
___
Tornadoes pose a serious danger to anyone caught in their path, but especially to truck drivers, who are constantly on the road and may have difficulty finding shelter in time. By far, the safest thing to do is to stay off the road until the severe weather passes, but tornadoes are unpredictable and driving schedules are demanding, so knowing how to remain safe in such conditions is essential.
Understanding tornadoes and the weather conditions in which they appear is the first step toward safety during the height of tornado season. Different areas have different peak seasons to be mindful of when traveling.
"Knowing what times of the year are most favorable, you start to see some of those signs — the heavy rain, the intense rain, some gusty winds, some large hail — that's a sign that that thunderstorm is very significant, and it could be that storm that produces a tornado," said John De Block warning coordination meteorologist with the National Weather Service.
Know the weather before driving into it, and be sure to check constantly along the route by listening to local radio or a NOAA Weather Radio to be alerted of tornado watches or warnings.
"I believe some of the truckers radios have that band on there. They can listen to whichever the closest NOAA weather radio transmitter is being broadcast," De Block said. He also recommended avoiding listening to internet radios that do not play local weather alerts.
De Block also said there are social media tags that truckers can follow in order to get notifications and alerts for tornadoes and other inclement weather. Alerts are given for counties, not cities, so a driver should be aware of the name of each county along their route.
There are two signals to listen for, a tornado watch and a tornado warning, with a simple way to differentiate one from the other:
A tornado watch means that conditions in the area are favorable to the formation of a tornado, which means drivers should "watch" for things to get worse.
A tornado warning means one has been spotted in the area, which means drivers have been "warned" about the imminent danger.
If at all possible, truck drivers should postpone driving until the weather clears up. Company drives should contact the right personnel and see who monitors the weather conditions and what methods are in place to ensure driver safety on the road.
While the NOAA or local radio gives important and timely updates, the sky is the true indicator. During the day, look for strong, constant rotation in the cloud base, whirling dust or debris under a cloud base as sometimes tornadoes have no funnel. Loud and continuous rumbling, unlike thunder which disappears after a few seconds, and heavy rain or hail followed by a sudden calmness or a quick, intense wind shift are also signs of a tornado.
At night, it's more difficult to see tornadoes, so in addition to audio cues, look for bright flashes at ground level near a thunderstorm. These indicate that incredibly strong winds are snapping powerlines. The flashes will differ from lighting, which is up in the clouds. Lightning can also be useful for watching for signs of a tornado, as it will illuminate the cloud base and show if it is persistently lowering or not.
Drivers need to seek shelter immediately when these signs are spotted.
Any FEMA storm shelter or well-constructed building, such as hotels, restaurants, gas stations or rest stops, is a good place to stay, and drivers can research possible shelter locations prior to getting on the road using an online map service. If a building does not have a storm shelter, an indoor room on the lowest level away from windows, doors and walls that touch outside is the next best option.
"You should try to avoid a manufactured home structure, because their anchoring system typically isn't strong enough to withstand a tornado," De Block said.
According to De Block, there are two worst-case options should other, safer shelter be unavailable. The first is staying in the truck, crouching low on the floor to avoid any glass fallout. The second is getting out of your truck and getting into the lowest point of a ditch, and covering your head. He said it may also be possible to drive away from a tornado seen in the distance by driving at a right angle.
Overpasses are not safe areas for shelter during a tornado. Many of those structures are built without girders providing any type of crawl space, and an area above the true ground level will leave a person susceptible to higher wind speeds and more flying debris. Furthermore, the overpass can cause a tunnel effect with the wind, increasing speed, and as the tornado passes an overpass that is directly in its path, wind direction can change 180 degrees as the vortex passes.
"Do not park underneath an overpass. That's a constrained area that the wind actually will blow faster underneath. Furthermore, if people park underneath the overpass, you can block traffic and hinder the first responders in a response to a storm," De Block said.
While the COVID-19 pandemic has increased the contents necessary for an emergency preparedness kit, such as masks and hand sanitizer, a tornado will pose a much more present threat than a disease, and De Block said forgoing social distancing and seeking shelter with others is more important.
"You basically handle the most significant hazard first. And then, if you have options to protect yourself from the secondary hazards of being in a cooler with people without having your mask on and having gloves on, you know, certainly exercise those if it's safe to do that. If you can do it all safely, that's great. Otherwise, the first thing you do is protect yourself from the tornado and then try to social distance as much as you can," De Block said.
Your emergency preparedness kit should be in one or two easy-to-carry containers, like a duffel bag. Place your items in airtight plastic bags before packing them in the overall container. Some important items to include would be nonperishable food and water to last an individual for three days, a first aid kit and a weather radio.
For additional tornado safety tips, visit https://www.weather.gov/safety/tornado or https://www.spc.noaa.gov/faq/tornado/safety.html.