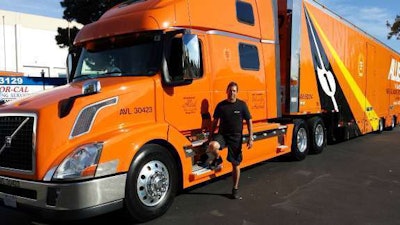 Household moving isn't for everyone, but it's not just because of the heavy lifting. Having to hire helpers, securing an odd mix of fragile freight and maintaining high-touch customer relationships are requirements that make it far more specialized than typical dry van hauling.
"It's just all the responsibilities," says Andy Cowsky of St. Petersburg, Florida, who's leased to Atlas Van Lines. "You have to be a secretary, you have to be a truck driver, you have to be a babysitter."
Household goods moving is done almost exclusively by owner-operators. Those who master the skill set can make good money, says Scott Michael, chief executive of the American Moving & Storage Association.
Michael says that based on anecdotal reports AMSA hears, many owner-operators average about $80,000 to $100,000 a year in net income. Some drivers gross as much as $500,000, but employing helpers drives up expenses.
"There's so much more money in the moving business than there is in freight, but you earn it," says Mark Pettigrew of Booneville, Mississippi, who's leased to Bekins Van Lines. Pettigrew, who drives a 2016 Kenworth W900, earned a net income of about $170,000 in 2014.
"It could be very lucrative if you're smart with your money and you can manage your money," says John Graham of Martinsburg, W.Va., who's leased to National Van Lines. "If you don't manage your money and you're not business-smart, it will break you fast."
Graham says household movers need a meticulous work ethic and, because they're working not with lumpers but with families, good customer relations. A driver may spend a week packing boxes, itemizing every box and piece of furniture, and loading – then another week unloading.
"You spend a lot of time in the trailer and in people's homes," even more than time in the truck, he says.
"Moving drivers are the primary contact with families during a stressful time," Michael says. "He or she needs to be able to put them at ease. Our customers are trusting the driver with their most cherished personal possessions."
Loading is far more complicated than most other types of freight.
"You want to get as much density as possible to use up every square corner," Michael says. "That prevents claims, loss from damage due to items getting broken, and the more weight you can cram in there, the more you get paid because you're paid on the weight of the items."
One of the biggest challenges is to arrange for helpers to load and unload, and to arrange protection for their potential injury claims. The helpers can be supplied from the van lines or brought on by the owner-operator, who usually keeps a list of helpers in various cities and is responsible for paying them. They usually have completed background checks and certification through the van line or AMSA. They usually are paid as casual laborers, typically $125 to $350 per day.
Owner-operator Bob Hirchak of Sherryville, Indiana, has used the same helpers for almost 25 years. "You can go either way, through the agency [van line] or the cash guys," says Hirchak, who's leased in California to NorCal Moving Services, an Allied Van Lines agent, and drives a 2014 Volvo 780. "Usually the cash guys are the better guys, the cream of the crop."
Each moving company has its own criteria and injury protection for the people hired to work on their jobs, Michael says. "Many do require their owner-operators to provide worker's compensation that covers the people they hire on a part-time or per-move basis," he says.
Arrangements for doing so vary, as do state requirements. Hirchak's workman's compensation coverage for his helpers is included in his own insurance package, but Pettigrew pays a monthly fee to an insurer for his helpers.
For all its extra job duties and expenses, household moving can open doors to more than just higher earnings. There are opportunities to haul special commodities such as museum exhibits. The small-business skills that owner-operators pick up in household moving give them management experience.
"We've got a number of drivers that have sort of advanced through the ranks even beyond the owner-operator stage and have become owners of a local moving company," Michael says.
Despite its better pay, household goods moving, like the rest of the trucking industry, is short on drivers. That's partly because loading and unloading is hard, tedious work.
"There are some drivers that get tired of that," says Scott Michael, chief executive of the American Moving & Storage Association. "They shift over to the general freight industry, and they just have to bump docks."
Owner-operators' average age is in the 50s – not a good time to handle labor that's far more taxing than driving. Mover John Graham thinks that drawback also affects new drivers. "I don't see a lot of younger drivers stepping up to do this because I believe it's physically demanding," he says.
AMSA has tried different ways to recruit drivers but with little success. The association's consensus now is for individual companies to "build them up through the ranks," Michael says.
"Maybe you start off working in the local warehouse driving a forklift, get some experience in the industry doing local things like that," he says. "Then maybe you put them in a straight truck and get them involved on local jobs in that area and grow them throughout the ranks so that they continue to advance through the industry and eventually are able to get their own truck and become an owner-operator."
"Most places want you to have at least a year or two years of experience of being an owner-operator," says mover Mark Pettigrew. "Being a successful owner-operator, you have to pretty well know what you're doing.
"We're pulling up beside houses and working with customers every day, so it's a lot different for somebody wanting to come from freight to the household side," he says. "They have to get with a driver and get some experience."
Search thousands of trucking jobs to find the job you want.
Find Your Next Job Today