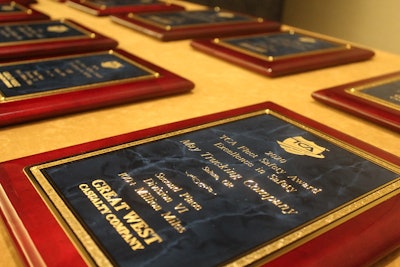 In St. Louis, Missouri, at 40th annual Safety and Security Division annual meeting of the Truckload Carriers Association, fleets in small- and large-carrier categories were honored for outstanding performance in the measure of accident frequency ratios per million miles annually.
An overall first-place winner will be named in small and large divisions at TCA's annual convention, rescheduled from its usual March date to Sept. 25-28 in Las Vegas, Nevada.
Small carrier division finalists
Annual miles fewer than 5 million miles
1st: Diamond Transportation System, Racine, Wisconsin
2nd: Spring Creek Carriers, Bearnsville, Ontario, Canada
3rd: FTC Transportation, Oklahoma City
Annual miles between 5 and 14.99 million
1st: Mill Creek Motor Freight, Ayr, Ontario, Canada
2nd: Double Diamond Transport, San Antonio, Texas
3rd: AAT Carriers, Chattanooga, Tennessee
Annual miles between 15 and 24.99 million
1st: Elgin Motor Freight, London, Ontario, Canada
2nd: Grand Island Express, Grand Island, Nebraska
3rd: Christenson Transportation, Stratford, Missouri
Large carrier division finalists
Annual miles between 25 and 49.99 million
1st: Bay and Bay Transportation, Eagan, Minnesota
2nd: Erb International, New Hamburg, Ontario, Canada
3rd (tie): Smokey Point Distributing, Arlington, Washington, and Johnson Feed, Canton, South Dakota
Annual miles between 50 and 99.99 million
1st: Groupe Robert, Rougemont, Quebec, Canada
2nd: Wilson Logistics, Springfield, Missouri
3rd: Freymiller, Oklahoma City
Annual miles 100 million or higher
1st: Bison Transport, Winnipeg, Manitoba, Canada
2nd: May Trucking, Salem, Oregon
3rd: CFI, Joplin, Missouri
Also at the conference, TCA honored Erb Transport's Director of Safety and Compliance Tom Boehler, as the 2021 TCA Safety Professional of the Year — Clare C. Casey Award recipient.
This honor is bestowed upon a trucking industry professional whose actions and achievements have made a profound contribution to enhancing safety on North America's highways.
Boehler started in the industry as a professional truck driver, and he became a driver trainer for Erb Transport in 1997. He later moved into the safety operation and has been the Director of Safety & Compliance for Erb since 2008.