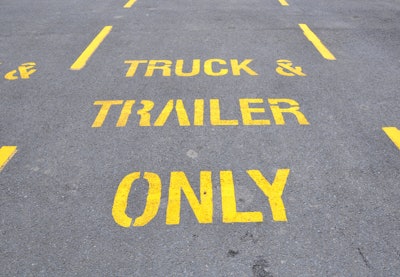 New research shows truckers find on-highway signs and smartphone apps helpful when looking for places to park. It also reinforces truckers' belief that more must be done to increase the number of available parking spots.
"Truck Parking Information Systems: Truck Driver Use and Perceptions" was released Monday, June 14 by the American Transportation Research Institute. These technologies use in-pavement sensors or video monitoring systems to share parking availability in real-time to electronic message boards and smartphone apps used by drivers.
ATRI's survey found that more than half of truckers -- fully 57% -- have used an app to find a parking spot in the last year. That number jumps among younger drivers. ATRI reports 68.7 percent of drivers under the age of 45 use such apps. In fact, the survey found the younger the driver, the higher the use of an app; about 85% of truckers less than 25 years old use apps for finding parking.
RELATED NEWS: PA Turnpike installing truck parking technology at 10 service areas
However, ATRI added in the report, "It is unknown if this is a function of veteran drivers already knowing when and where they plan to park, or younger drivers being more tech-savvy."
ATRI's survey also found:
more female drivers than male drivers -- 66.2% vs. 56.2% -- reported using truck parking apps
drivers paid by the mile were almost twice as likely to use a truck parking app than drivers paid by the hour
use of truck parking apps was highest among drivers working for larger fleets, with 65 percent of drivers working for fleets of 1,000+ trucks using truck parking apps, compared to 51 percent of drivers at fleets with 20 or fewer trucks
ATRI also identified the apps most popular with truckers. They include:
46% Trucker Path
26% MyPilot
18% TruckSmart
3% Park My Truck
2% Truck Parking USA
1% Truck Specialized Parking Services
The survey also found the majority of truckers -- 70% -- find the electronic variable messaging signs used to show parking availability helpful. Again, the newer the driver the more they relied on such signs. A majority of drivers, especially long-haul and inter-regional drivers, found that variable message signs were both useful and accurate, according to the ATRI survey report.
And, 72% of drivers cited a need for more parking spaces regardless of how they learn about them.