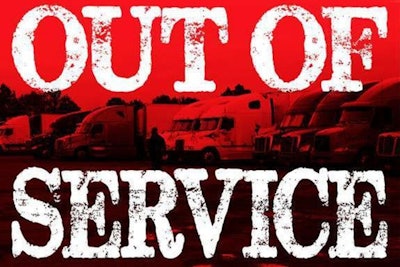 A trucker has been effectively shut down by the federal government after he was charged with an alcohol-related violation while driving.
The Federal Motor Carrier Safety Administration last week declared commercial motor vehicle driver Robert L. Webb to be an imminent hazard to public safety, thereby prohibiting him from operating any commercial motor vehicle in interstate commerce. Webb was served the federal order on July 2.
On June 28, Webb was stopped by Delaware State Police for a load securement violation in New Castle, Delaware, during which troopers detected the smell of alcohol coming from Webb. Webb was transported to a Delaware State Police Troop where he was administered a series of sobriety tests and a breathalyzer test where it showed a blood alcohol level of .254, which is six times the legal limit for commercial motor vehicle operators.
Additionally, upon searching Webb's vehicle, troopers discovered an open 12-pack of beer in the sleeper with only two remaining and an opened, still cold, beer outside the box.
This was Webb's second driving under the influence offense. On March 10, 2014, Webb was convicted for driving a commercial motor vehicle under the influence of alcohol with a BAC at or over .04.
FMCSA's imminent hazard out-of-service order states that Webb's "operation of any commercial motor vehicle in interstate commerce substantially increases the likelihood of serious injury or death if not discontinued immediately."
The State of Delaware charged Webb with operating a commercial vehicle with a BAC of .04 or above, possession of alcohol, and in violation of federal regulation for improper load securement and failure to remain in a single lane.
Webb may not operate a commercial motor vehicle in the United States until such time he successfully completes the statutorily required return-to-duty process overseen by a substance abuse professional.