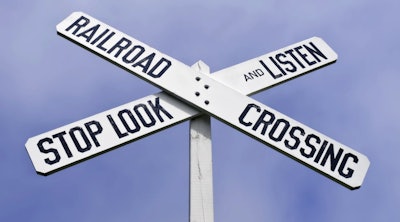 Generally speaking, most of the time when we report on such things, the headline says something about a tractor-trailer being hit by a train.
Not this time.
It seems that on Tuesday, Aug. 24, it was a truck that struck a train.
WTVR reports that the 22-year-old driver of a log truck slammed into the side of a train stopped in a crossing. The impact knocked two cars partially off the tracks during the incident that occurred Tuesday evening in Charles City County, Virginia southeast of Richmond.
A state trooper spokesperson said the driver, Russell P. Claytor Jr., of Green Bay, Virginia, was driving a 1995 International tractor-trailer loaded with logs and northbound on Route 106. Claytor is said to have moved into the southbound lanes, passed several vehicles, and struck the stopped freight train.
Claytor refused treatment at the scene and was charged with failure to maintain control and failure to obtain a registration. The troopers' investigation continues.