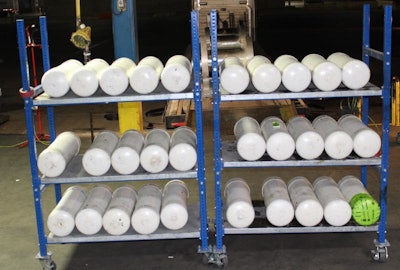 U.S. Customs and Border Protection officers recently seized $20 million worth of methamphetamine at the World Trade Bridge in Laredo, Texas.
The seizure of the narcotics occurred Aug. 18 after CBP officers encountered a tractor-trailer manifesting galvanized steel coil arriving from Mexico. The 2011 Kenworth tractor and flatbed trailer were referred for a canine and non-intrusive imaging system inspection, resulting in the discovery of 30 packages containing 1,030.35 pounds of alleged methamphetamine hidden within the steel coils.
The driver of the truck was not identified by authorities.
CBP seized the narcotics and the flatbed trailer in connection with the alleged smuggling attempt.
"Officers at the Laredo Port of Entry have strengthened their enforcement strategy by targeting these high-risk commodities. Large-scale seizures such as this one help to disrupt the flow of deadly narcotics into our country," said Port Director Alberto Flores, Laredo Port of Entry. "This drug bust was an exceptional illustration of CBP's dedication to our border security mission."
The case was turned over to U.S. Immigration and Customs Enforcement-Homeland Security Investigations special agents for further investigation.