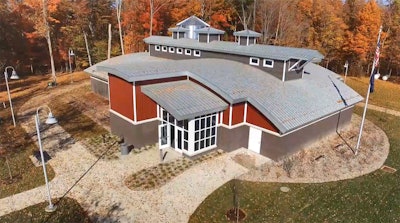 Truck parking spaces will more than double when a project to upgrade rest areas in Indiana is completed.
The state now has some 1,100 truck parking spaces at rest areas. That will increase to 2,500 when the 10-year-long, $275 million project to revamp 16 interstate rest areas is complete.
Work has been completed on the Pigeon Creek Welcome Center on Interstate 69 near Angola. Construction began this month on a second rest area overhaul; the one at Kankakee on Interstate 65 in Jasper County.
In addition to more truck parking, the new rest area complexes will include modern restrooms and other indoor facilities, as well as walking trails, picnic spaces and outdoor shelters.
The average cost of a welcome center rebuild is expected to be $20 million, depending on the footprint and size of the property, INDOT officials said. Money for the projects will come from federal and state highway funds.
"Anytime there's an addition of parking spaces, truckers are going to see benefits," said Barbara Smithers, vice president of the Indiana Motor Truck Association. told Indianapolis Business Journal. "We need increased truck parking and we're happy with INDOT's decision to upgrade these facilities."
Smithers also said providing recreation areas—such as walking trails—at the sites will provide commercial truck drivers with better options for their break times.
Construction of a truck parking facility in Martinsville, as well as a new rest area at Crane, will also be part of the 10-year project.