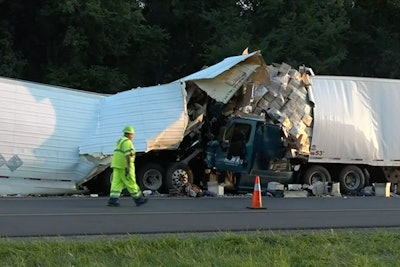 Indiana State Police continue investigating a collision involving three tractor-trailers and an RV that occurred late in the afternoon Sunday, Aug. 15 on the Indiana Toll Road near mile marker 118.4.
Two of the truck drivers involved were injured, including one who had a leg injury serious enough that he was airlifted to a nearby hospital.
A statement from the troopers says a tractor-trailer slammed into the back of another truck that was stopped in traffic at a highway construction site.
That driver was identified as Parminder Singh Tangar, 37, of Wisconsin. He was airlifted to Parkview regional medical center in serious condition. The driver of the middle semi, Mohammed Mustafa Ghaleb, 28, of Idaho, was transported with non-life-threatening injuries to Parkview Lagrange.
The driver of the third tractor-trailer and the RV were uninjured.
The troopers said the crash "was the result of the third and rearmost semi-tractors failing to get stopped as they approached a traffic back-up due to construction at the 121 mile marker. The initial impact from the rear semi-tractor into the third semi-tractor trailer caused a chain reaction impact with the other vehicles."
Although drugs nor alcohol were initially suspected as contributing factors, all three truck drivers consented to blood draws as required by law for serious injury crashes., according to the troopers.