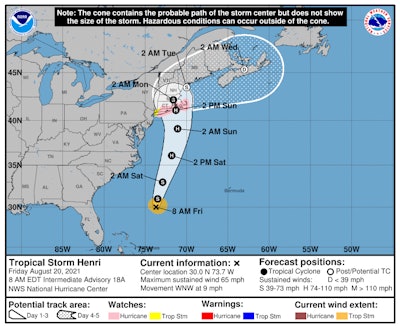 Tropical Storm Henri could make things messy for truckers headed to the Northeast in the next several days. The storm is expected to grow to hurricane strength by the time it makes landfall.
The National Weather Service this morning said:
"Henri is forecast to be near the northeast coast of the U.S. Sunday and Monday and the risks of storm surge, wind, and rain impacts in portions of southern New England and eastern Long Island are increasing. Hurricane and storm surge watches are now in effect for portions of Long Island, Connecticut, Rhode Island, and southern Massachusetts. Additional watches or warnings may be required later today."
RELATED NEWS: Tips on how to be prepared for hurricane season
Henri is forecast to continue moving offshore up the Eastern Seaboard today through late Sunday night to early Monday morning. The National Hurricane Center suggests it could deliver tropical-storm-force (39-73 mph) winds and between 2 and 4 inches of rain over parts of coastal New England before moving into the Canadian Maritimes.
The hurricane center issued hurricane watches this morning for an area from Long Island's South Shore to Massachusetts's Nantucket, Martha's Vineyard, and Block Island. Tropical storm watches were posted, too, for the greater New York City metro area.
According to Accuweather, "The timing of Henri's arrival and the strength of its impact will be largely determined by the storm's exact path and the timing of its northward turn. At this time, AccuWeather meteorologists believe Henri will not make a northward turn until later on Friday, which would mean the storm will track closer to the East Coast and make landfall in New England."
Follow the National Hurricane Center's reporting on Facebook.