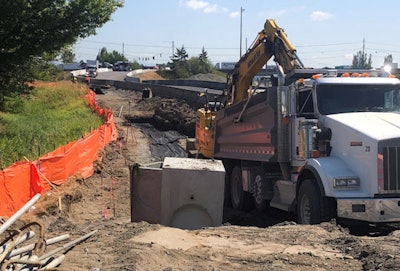 At 12:01 a.m. Monday, Aug. 23, crews from the Washington Department of Transportation will close the Port of Tacoma Road on-ramp to southbound I-5 for up to 15 days. This around-the-clock closure is needed to replace the temporary on-ramp with a wider, paved ramp, according to WDOT.
The agency says crews will also install barriers and electronic systems that allow WDOT to monitor traffic flow along the ramp, which is heavily used by the freight industry.
During the closure, drivers who normally use the Port of Tacoma Road on-ramp to southbound I-5 will detour to northbound I-5 to exit 137 for SR 99 North, and 54th Avenue East and back to southbound I-5. Signs will mark the detour route, according to WDOT.
One more important thing to be aware of in the coming weeks: another traffic shift, according to WDOT. This upcoming traffic shift is needed before southbound traffic is permanently moved onto the new, more seismically sound and wider southbound I-5 Puyallup River Bridge. WDOT said it doesn't have a specific date yet but truckers and others ought to expect this shift to take place in early September.
During the shift, workers plan to move all southbound I-5 lanes of traffic south of the Puyallup River Bridge towards the right shoulder. This will let us re-establish a work zone between southbound and northbound I-5.
Moving travel lanes to the right shoulder of southbound I-5 opens up a work zone to resume construction on the East L Street Bridge, according to WDOT.