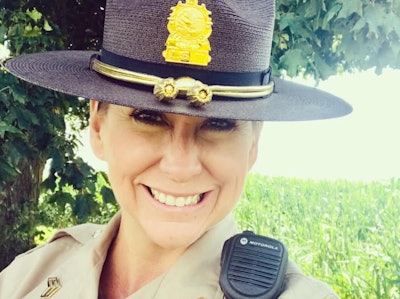 Often relations between cops and truckers are portrayed as highly adversarial and generally negative.
That certainly wasn't the case when an Illinois State Trooper posted on Facebook about one trucker she observed employing skills that spared the life of a young driver who was texting when she should have been driving.
Trooper Tracy, as she is known on Facebook, is listed as "Statewide Social Media Coordinator for the Illinois State Police." Last week she posted about a scene she saw play out while off duty. She wrote to the truck driver:
"I saw you take the gravel shoulder to avoid the young girl texting on her phone. Her car had traveled into your lane on Route 49 and she was bound to hit you head on. But you were paying attention. You saw her. I saw what you did and I thank you." (See her full post and reactions below.)
Plenty of people, including truckers, appreciated what she said. Of the more than 200 comments on the trooper's post were these:
Jeff Sellers: As a semi driver I thank you for noticing that we're not all bad. I've been driving one for 38 years. I've never had a ticket, accident or moving violation. I see it every day that people in 4 wheelers are on the phone or just not paying attention.
Joe Goforth: The worst two wrecks my Dad in his trucking career was avoiding hitting someone head on, coming into his lane. It happens more often now due to cell phones.
Jean-Baptiste Cyr: As a retired Trooper and Risk Manager for a small trucking fleet, I have had to live through a fatal crash in which a young man crossed the centerline and hit one of our trucks head-on. Our driver tried to avoid the crash by veering into the woods, which would have probably been fatal for him. A guardrail prevented that. Our driver could not get back in the saddle. He was broken emotionally. I pray I live to see the day where state legislatures across the country allocate real money to overtime details with targeted enforcement for distracted driving. Thanks, Sarge for all you do. "Angels among us"-
Cheryl Lohse: Thank you for acknowledging the truckers who must share the road with fools every day!
Mackenzie Drone: My biggest fear for my husband is him taking someone else's life at their fault and having to carry that guilt for the rest of his. 18 wheels don't stop on a dime and a lot of people don't understand that.
Dennis Ingram: Thanks, Trooper Tracy for all you do. Also realizing US truck drivers are not all fools. I really care about the motoring public and try my best to watch out for clueless people who have no idea what they can cause. That motorist could have become a statistic and ruined a man's/drivers life.
Charlie Griswold: Thank you, Trooper Tracy for posting this! We, like yall, don't always get a good review(s). Folks don't realize how many times we do save (the) lives of those who sometimes make mistakes.