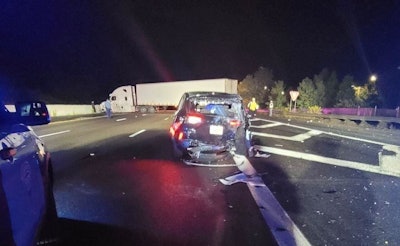 Massachusetts State Police
A Canadian trucker is said to have fallen asleep at the wheel when his tractor-trailer slammed into a Massachusetts State Police car stopped on Interstate 95 Tuesday night, Sept. 28, sending the trooper to the hospital.
The collision occurred near a construction site near Weston at about 11:45 p.m. The unmarked police car had its emergency lights on at the time of the crash.
The 27-year-old trucker from Montreal, Canada is said by police to have fallen asleep and veered into the breakdown lane. He awoke at the last second and applied his brakes, but it was too late to avoid impact, according to MSP.
The truck continued past the damaged police vehicle and jack-knifed, causing the southbound lanes to be closed for several hours.
The 33-year-old trooper was pinned in the vehicle by the collision. He is said to have sustained serious injuries but was able to call in the crash himself. He was taken to a Boston hospital and has since been discharged.
The truck driver was cited for negligent operation, failure to move over, and marked lanes violation, police said.