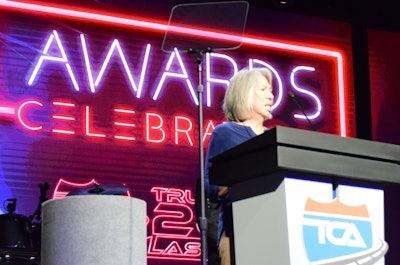 Phots by Todd Dills
Two truck drivers did something few folks can boast of: leave Las Vegas $25,000 richer.
And, they won't have to have played a single hand of blackjack or dropped a coin in a slot machine.
Instead, the two drivers -- one company driver and one owner/operator -- each received $25,000 for being named winners of the Driver of the Year competitions that are part of the Truckload Carriers Association's annual convention that concluded Tuesday night, Sept. 28, at the Wynn Resort.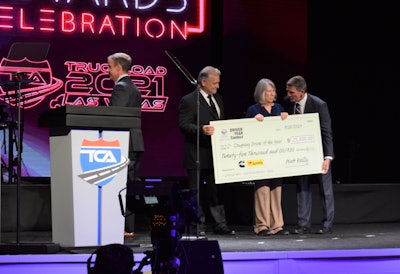 Betty Aragon won the Company Driver of the Year award given by TCA and Truckers News. Aragon, who lives in Tucumcari, New Mexico, drives for Wilson Logistics, Inc. based in Springfield, Missouri.
Dennis Cravener was the runner-up for the Company Driver of the Year award and won $2,500. Cravener is from Virginia Beach, Virginia, and drives for Givens Transportation based in Chesapeake, Virginia.
Bryan Smith, of Asbury, Iowa, is the Owner/Operator of the Year. He is leased to Tucker Freight Lines, based in Dubuque, Iowa.
That award is given by TCA and our sister publication Overdrive.
Runners up for the owner/operator award were:
Glen Horack, of Elkland, Missouri who is leased to Prime Inc. based in Springfield, Missouri
Douglas Schildgen, of Waterloo, Iowa, who is leased to Warren Transport, Inc. based also in Waterloo, Iowa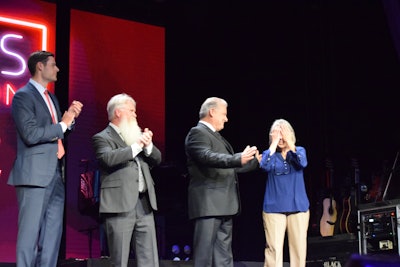 They each won $2,500.
RELATED NEWS FROM OVERDRIVE: Fifth time's the charm for owner/operator Bryan Smith, who bags big prize from TCA/Overdrive
Both awards are sponsored by Love's Travel Stops and Cummins, and were given during the closing gala of TCA's convention.
Aragon, who is 74 and has already retired from trucking only to return to the road, has been driving for some 44 years. She started driving at the age of 30 with two young sons to care for. Since then, she had driven more than 5 million safe. miles.
In a pre-announcement interview taped at the TCA convention and aired for banquet attendees, Aragon noted that when she started driving all those decades ago, "men didn't want women out here." She shared an anecdote about stopping at a truck stop in California and needing a shower. "They didn't have showers for women, only for men." She was, rather, offered a hose outside of the building. "I got back out in my truck and left."
"Everything is different now," she added, and "I wouldn't do anything else."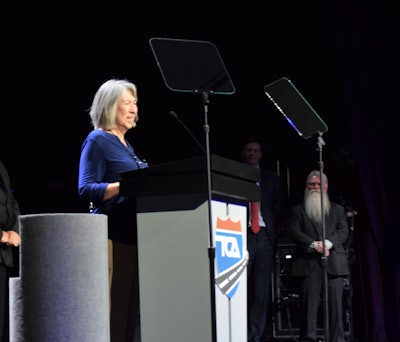 She considered the award "an honor whether I win or not. I made it to the top with the guys."
After all those years -- and miles -- Aragon still likes what she does.
"It's not a job," says Aragon. "I always said that when it becomes a job, that's the day you get off the road. If it becomes a job then you're not enjoying it anymore. And I still do, I'm going places that I've never been to before. I'm still going down roads that I've never been on before."
Darrell Wilson, the owner of the trucking company that bears his name, says Aragon is like family to him and others.
"I remember when we brought her on, and she's been a jewel ever since," says Wilson. "We really, really enjoy her. My whole family loves Betty. My children. My wife. She's part of the family. She's a genuine person. She puts people first. She puts her job before herself and she puts other people before herself."
Wilson also knows why Aragon has been successful as a driver and why she won the award.
"She strives to do a good job," said Wilson. "She's safe. She's one of those drivers who came along before e-logs and before CSA, back to having a chauffeur's license and not a CDL. I've got respect for drivers who made all the evolutions and checked every box and reinvented themselves to be what a true driver looks like today. Not just a driver's who hung on and is still here, but who's as current with what's going on as you can get."
Nominations for the next Driver of the Year contests are now open.
Overdrive Editor Todd Dills contributed to this story.