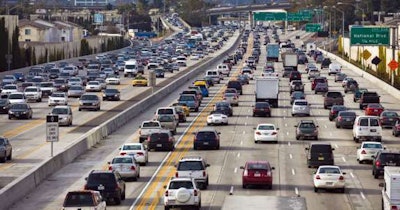 Professional drivers may not be too thankful late next week as the number of holiday travelers is being forecast to return to almost pre-pandemic levels.
AAA predicts 53.4 million people will travel for the Thanksgiving holiday, up 13% from 2020. This brings travel volumes within 5% of pre-pandemic levels in 2019, according to AAA.
As restrictions continue to lift and consumer confidence builds, AAA urges travelers to be proactive when making their travel plans this holiday season.
With 6.4 million more people traveling this Thanksgiving coupled with the recent opening of the U.S. borders to fully vaccinated international travelers, people should prepare for roads to be noticeably more crowded. Automobile travel is expected to be up by 8% over last year.
"This Thanksgiving, travel will look a lot different than last year," said Patti Artessa, Regional Director of Public and Government Affairs for AAA Northeast. "Now that the borders are open and new health and safety guidelines are in place, travel is once again high on the list for Americans who are ready to reunite with their loved ones for the holiday."
Despite gas costing over a dollar more per gallon than this time last year, 90% of people plan to travel by car as their preferred mode of travel. Travelers will be headed the nation's largest cities and traditional warm-weather vacation spots.