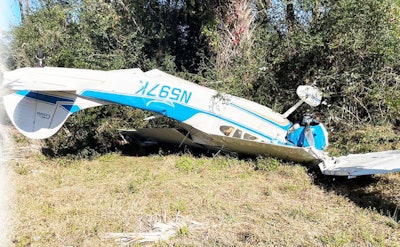 A light plane struck a tractor-trailer Monday, Jan. 31 when the pilot attempted an emergency landing on Interstate 95 near Flagler Beach in eastern Florida.
Florida Highway Patrol said the aircraft lost power and the pilot tried landing on the northbound lanes of I-95. As the plane was landing, its wing collided with a tractor-trailer.
The airplane flipped over in a treeline next to the highway. The pilot and co-pilot were able to exit the aircraft on their own with only minor injuries. The truck's driver was uninjured.
The collision remains under investigation.