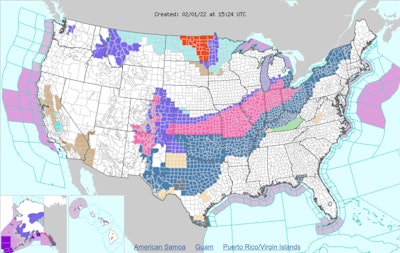 Driving could become difficult or impossible in some parts of the country yet this week as yet another major winter storm is forecast to overspread much of the country. The storm is expected to deliver as much as 2 feet of snow in some locations and ice in some places. Impacts from the storm are expected to begin tonight and continue on through the end of the week as it moves easterly.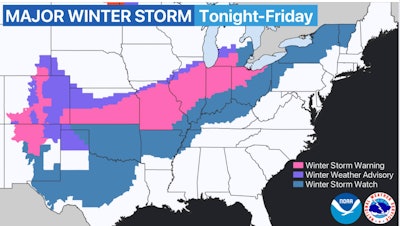 The National Weather Service this morning said, "A major winter storm is set to bring disruptive snow and ice accumulations from the Rockies and the Heartland to the Great Lakes beginning Tuesday night. Significant disruptions to travel are anticipated in these affected regions. Bitterly cold temperatures will follow the wintry precipitation. This winter storm will bring a variety of winter weather hazards including heavy snow, sleet, and freezing rain."
Here's what's ahead, according to the NWS:
Several rounds of winter weather will occur through Thursday for portions of the central U.S. before shifting to the interior Northeast.
Heavy snow is expected over the Southern Rockies and from the South-Central Great Plains through the eastern Great Lakes and Interior Northeast.
Snowfall totals of 6 to 12 inches are expected over parts of the Southern Rockies and Central Plains to Midwest by Thursday morning. Locally higher totals are possible, especially over the higher mountain elevations of the Rockies.
A corridor of heavy ice accumulation (exceeding a quarter of an inch) is likely from Texas through the Ohio Valley.
Winter Storm Watches and Warnings are in effect for much of the areas to be affected by heavy snow and ice.
According to AccuWeather, the storm will affect over 90 million Americans as it travels from Texas to Maine, dropping rain, freezing rain and snow, causing numerous power outages and travel delays.