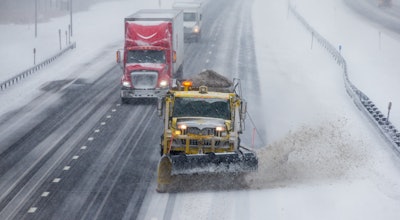 A large swath of the U.S. could get yet another blast of winter weather as this week draws to a close.
AccuWeather forecasters say a "powerful and far-reaching storm" will deliver a smorgasbord of weather conditions from east Texas to New England that could make your driving even more difficult than normal. The storm is expected to form when Arctic air collides with warm, moist air across the South. The weather system is expected to move northeasterly and deliver rain, a mix of rain and snow, or just all snow depending on the part of the country it passes over.
The timing of the storm remains open, but the best guess is for it to form Friday and move in a northeasterly direction Saturday.
At the moment, snow is in the forecast for an area from eastern Oklahoma, to Missouri, Illinois, Indiana, Michigan, and Ontario, Canada.
A mix of rain and snow is predicted from east Texas over the Mississippi Valley, Appalachia, Pennsylvania, New York, and New England.
Rain and possible thunderstorms are expected south of that line to the Gulf Coast and to the Atlantic coast.
AccuWeather says the greatest snowfall could deliver between 12 and 18 inches from West Virginia to Pennsylvania, New York, and the interior of New England. Between 6 inches and a foot of snow is forecast to fall on either side of that path. Just one to three inches of snow is expected elsewhere along the storm's path.
Travel along Interstate 95 could get tricky if temperatures drop enough to turn the expected rain into ice on the highway.