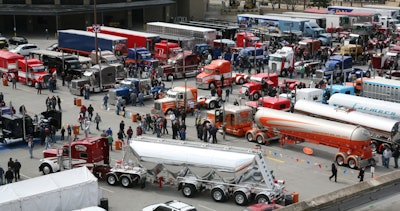 After a COVID-induced two-year hiatus, the Mid-American Trucking Show is back, and organizers have added enough events, activities, and features to make up for lost time.
MATS opens Thursday at the Kentucky Expo Center in Louisville and runs through Saturday. Show hours include:
Thursday VIP preview: 10 a.m. to 1 p.m.
Thursday: 1 p.m. to 6 p.m.
Friday - 10 a.m. to 6 p.m.
Saturday - 9 a.m. to 4 p.m.
According to the show's website, "The inaugural Mid-America Trucking Show was held at the Kentucky Exposition Center in Louisville, KY. That first show occupied just a portion of the West Wing. MATS welcomed 4,000 attendees and 83 exhibitors. It was a modest beginning, certainly a much smaller show than other trucking events of the day, but the foundation was laid and the show would grow from there."
Aside from coming back after two COVID cancellations, the 2022 edition of MATS will also celebrate the show's 50th anniversary.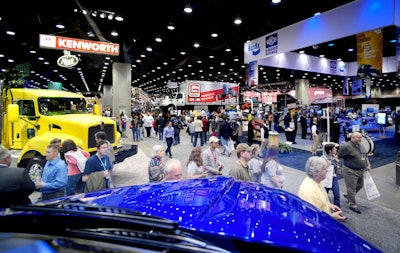 This year's show will host 1,020 exhibitors filling over 1 million square feet of exhibit space and is expected to attract more than 75,000 attendees.
But, MATS is far more than booths. Here's some of the highliughts:
Opening night celebration 6 p.m. Thursday in the South Lobby; admission is free for all badged MATS attendees and exhibitors
Veterans in Trucking salute, in the Pavillion throughought the show
PKY Truck Beauty Championship show with 200 entries; truck light show Thursday at 8 p.m. in Lot J behind the Expo Center's West Wing; PKY awards ceremony Saturday at 10 a.m. in the South Wing Conference Room B101
Concert by Clay Walker Friday at 7 p.m. in Freedom Hall; free tickets available from DAT Freight & Analytics, Booth 65216
MAC Trailer Winter Nationals Championship Pulling Event, Saturday at 5 p.m. in Freedom Hall; tickets on sale
40 Pro Talks Education Series throughout all three days of the show in the Pro Talks Stage in the East Hall and the Pro Talks Theater, South Wing Room B104
Salute to Women Behind the Wheel event hosted by Women In Trucking Friday; includes naming WIT's Woman Driver of the Year
Meet NASCAR great "The King" Richard Petty at the Clean Harbors Booth #70153 on Thursday from 1 p.m. to 2:30 p.m.
Free truck parking community is located at 4146 Park Blvd. (Enter at Gate D); see details