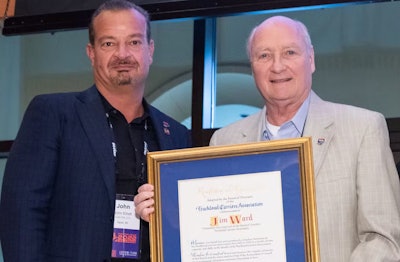 The Truckload Carriers Association has appointed Load One CEO John Elliott as its 2022-23 Chairman.
His appointment was announced at TCA's recent convention in Las Vegas.
Elliott, a third-generation transportation professional, founded Load One in 2003, and under his leadership, the Taylor, Michigan-based provider of domestic and international transportation and logistics services has grown into a book of business that includes $135 million in annual revenue and more than 450 power units. The company has also won numerous awards and recognition and has been twice named as a Best Fleet to Drive For.
Elliott was the founder of ARC Supply Chain Solutions, a global provider of third-party logistic services. His extensive industry work includes serving as a TCA Officer, its First Vice Chairman, the Advocacy Advisory Committee Chairman, and as a member of TCA's Board of Directors, Financial Oversight Committee, Highway Policy Committee, and Regulatory Policy Committee.
He has also been a Vice President of the American Trucking Associations since 2018 and was previously the President of The Expedite Association of North America (TEANA).
A holder of a degree in Aviation Management and Logistics from Eastern Michigan University.