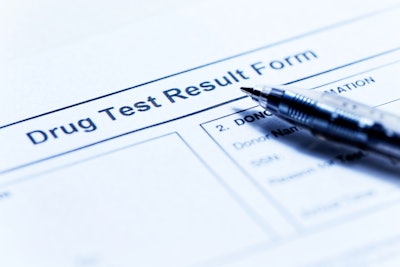 Positive drug tests reported to the Federal Motor Carrier Safety Administration's CDL Drug and Alcohol Clearinghouse are on the rise so far this year, according to the agency's February 2022 Clearinghouse report released April 12.
According to FMCSA's most recent monthly report, which shows data through February, there were 10,035 drug-related violations reported to the clearinghouse in the first two months of the year. If that pace keeps up through the rest of the year, such violation numbers in total will outpace the 2021 total of 57,763 drug-related violations.
Bryan Price, FMCSA division chief for drug and alcohol programs, said during a session at the Mid-America Trucking Show in March that while violations are up, FMCSA does not have data on the total number of drug tests actually conducted, so it's unclear if the rate of positives has really gone up or not.
The majority of drug violations reported to the Clearinghouse this year have been failed drug tests, accounting for 8,487 of all reported drug violations. Other violations reported were either drug test refusals or actual knowledge of a drug violation reported by an employer.
XPO continues to expand LTL capacity with 2 new terminals
XPO Logistics earlier this week announced the further expansion of its North American LTL network with the upcoming openings of two terminals.
A new Adelanto, California, terminal will expand XPO's footprint in San Bernardino County, where an influx of business development is driving demand for LTL services, XPO says. The 51,500 square-foot facility includes 99 doors and a freight assembly center, and is expected to open this month.
A new terminal in Conley, Georgia, will be a sister site to XPO's existing terminal and freight assembly center in Atlanta, adding pickup-and-delivery capacity in a high-volume metropolitan area. The 55,000 square-foot facility has 97 doors and is expected to open in May.
"We're making strategic investments to optimize our network for the long-term," said Mario Harik, acting president, less-than-truckload, and chief information officer of XPO Logistics. "In California, demand is on the rise from manufacturing and retail expansion in the High Desert area. Atlanta is one of the largest LTL regions in the South, and a freight gateway into Florida. We'll continue to add capacity where it will be most effective in driving efficiency, growth, and returns."
ICYMI
Coca Cola gives $1 million to college driver training programs
Pay hike means Walmart drivers can make up to $110,000 in their first year
Bill introduced to remove truckers' overtime exemption
Important to know what you're putting in your fuel & what you're trying to fix
See what happens when train collides with tractor-trailer
This collision occurred Wednesday, April 20 in Hockley, Texas. The truck's driver was airlifted to a nearby hospital in "critical but stable condition."