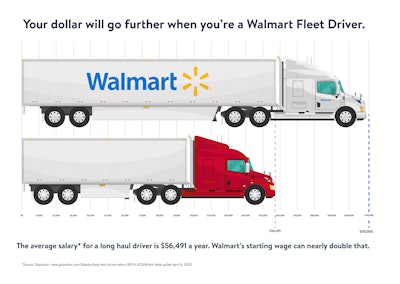 Walmart
One of the largest private trucking fleets in the U.S. that's already known for paying its drivers well plans to pay them even more. It also plans to step up efforts to train new drivers
Walmart Thursday announced a sizeable pay increase for its 12,000 existing drivers. It also unveiled a new program to give employees who work in its distribution or fulfillment centers a chance to become certified Walmart truck drivers.
In a blog post on the Walmart corporate website Thursday, Fernando Cortes, senior vice president for transportation and Karisa Sprague, senior vice president for supply chain people, wrote "Walmart drivers can now make up to $110,000 in their first year with the company. And that's just a start – drivers who have been with Walmart longer can earn even more, based on factors like tenure and location."
Starting pay for Walmart drivers had been $87,500. but now is at least $95,000.
Cortes and Sprauge also wrote that the company was training drivers in the Walmart Private Fleet Development Program, a new CDL program taught by Walmart's "established drivers" who will be called "Certified Driver Trainers." They said, "Over the course of a 12-week program, supply chain associates in the Dallas, Texas, and Dover, Delaware, areas earned their commercial driver's license (CDL) and became full-fledged Private Fleet Walmart drivers."
In that blog post, Cortes and Sprague also said these improvements in training and driver pay could also ensure drivers stick with the company.
They wrote: "The investments in pay and training build on multiple recent driver bonuses and improved schedules that enable drivers to spend more time at home. There's never been a better time to join our fleet. Once drivers are on board, this is a job many leave only for retirement."
Search thousands of trucking jobs to find the job you want.
Find Your Next Job Today