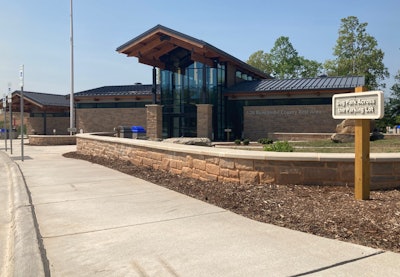 North Carolina DOT
The North Carolina Department of Transportation last week opened a new, $5 million rest area on eastbound Interstate 26.
The corresponding westbound rest area is set to open in the middle of June, according to the NCDOT.
​The new facility is located in Fletcher, and features high ceilings, fine wood finishes, energy-efficient plumbing and:
30 truck parking spaces
90 car parking spaces
Patio picnic area
Separate vending machine building
Dedicated pet area
"NCDOT takes great pride in its rest areas, not only in the mountains, but across the state," Division 13 Roadside Environmental Engineer Jeff Wait said. "Some of the finest rest areas in the country are located right here in western North Carolina. And depending on who you ask, this may be the best."
NCDOT said an average of 64,000 people per day drove this stretch of I-26 in 2019.
Crews from Archer/Wright Joint Venture and subcontractors built the rest areas as part of the $271 million project to widen I-26 in Henderson County.