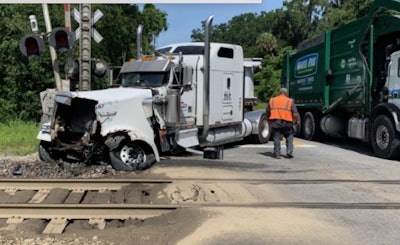 Marion County Fire Rescue
No major injuries were reported when tractor-trailers were struck by trains in two separate incidences this week.
One collision occurred in Florida and the other happened in Texas. Both occurred Wednesday, July 15.
In the Texas crash, the Department of Public Safety said in a statement the driver of a 2022 Freightliner tractor-trailer disregarded a no thru traffic sign and made a right turn onto Thompson Road in China, Texas. As the truck crossed over the railroad tracks, its trailer became stuck, according to police.
The driver disconnected the truck from the trailer. At about the same time, an approaching freight train with 88 cars struck the detached trailer.
The driver of the truck tractor, identified as 65-year-old Willie Edwards of Tulsa, Oklahoma was not injured. Edwards was cited for disregarding an official traffic control device, according to police.
The train's engineer and a passenger were uninjured.
In the Florida crash, a CSX freight train struck the front of a tractor-trailer on track in Marion County near Ocala.
The truck's driver, a 52-year-old man from Miami, sustained minor injuries in the crash, but did not require hospitalization.
Police continue their investigation.
One major Canadian trucking company acquires another one
Fastfrate Group today announced the majority acquisition of the Challenger Group.
A statement from Fastfrate Group said it will add the Challenger Group's industry-leading cross-border trucking capabilities to complete an already diverse suite of services, which includes LTL, TL, intermodal, drayage, logistics, warehousing, distribution services, home delivery, and e-commerce.
"Our acquisition of the Challenger Group brings together two iconic organizations in transportation and supply chain," said Ron Tepper, chairman of Fastfrate Group. "Together, we are a force within our industry that will compete collectively to deliver a complete and complementary suite of solutions to customers. This will serve to help our customers as supply chains become more diverse."
Together the new entity will bring over 100 years of experience combined, more than 5,000 employees and owner-operators, over 1.2 million square feet of facilities, and over 5,500 pieces of equipment.
"With similar histories of entrepreneurship and growth, this is as much an acquisition as it is a partnership of like minds," said Dan Einwechter, founder and chairman of Challenger. "We are excited to offer truly end-to-end transportation and supply chain solutions to our customers which support their needs and grow their business."
As part of the terms of the acquisition, Challenger Group will continue to operate independently under incoming CEO Jim Peeples. Dan Einwechter will remain Chairman of Challenger Group and join the Board of Directors of Fastfrate Group. Manny Calandrino will continue as CEO of the Fastfrate Group. Current employees and management teams at both organizations will not be impacted by the transaction.
Now with 7 companies and 40 locations operating across Canada and the United States, Fastfrate Group is one of the largest independently owned transportation and supply chain companies in Canada. Fastfrate Group operates out of 30 terminals and final mile hubs across Canada and into the United States.
ICYMI
FedEx Freight wins major awards at New York driving competition
Two I-79 rest areas in western Pennsylvania closed for repairs
Canadian trucker honored for helping driver of truck that rolled