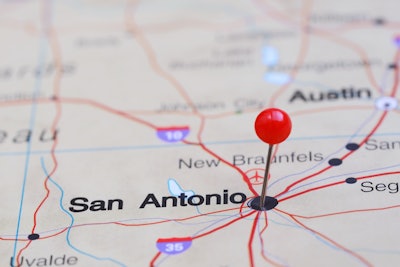 Update: Authorities have arrested three men in connection with Monday's discovery of numerous bodies found in a tractor-trailer abandoned on a remote road in San Antonio, Texas. Also, the number of deaths was increased to 51.
The San Antonio Express-News reports Homero Zamorano, 45, was taken into custody in a field near where the tractor-trailer was abandoned. Investigators reportedly also traced the truck's registration to a residence in San Antonio and detained two men from Mexico for possession of weapons.
In addition, a south Texas-based trucking company, Betancourt Trucking and Harvesting, told the San Antonio Express-News that the truck containing the migrants was "cloned" to look like one of its own trucks. One of the company's owners, Felipe Betancourt Jr., told the news outlet that while the truck had the same colors and USDOT number as its trucks, the abandoned truck did not have the company's logo like the rest of its equipment.
Betancourt also told the outlet his truck has not been in San Antonio recently and that his reefer trailer "is sitting right in the yard."
Our original story:
Several dozen migrants were found dead in an abandoned tractor-trailer near Lackland Air Force Base in San Antonio, Texas Monday night.
The bodies of at least 50 people were found in the tractor-trailer, officials said. Sixteen others were hospitalized, according to news reports.
At least 22 of the dead were Mexican nationals, while seven were from Guatemala and two from Honduras. The nationalities of the remaining 19 people had yet to be confirmed.
The bodies were discovered by a person working nearby who told police they heard cries for help, according to The Texas Tribune.
The trailer appears to have had a refrigeration unit, but it was not working.
Homeland Security Investigations is handling the investigation into the incident.
Outside temperatures Monday reached 101 degrees.