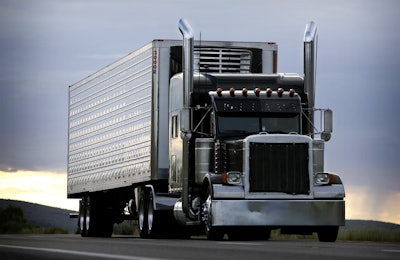 A number of trucking groups are among a coalition of supply chain and transportation organizations urging Congress to pass legislation that would do away with what the coalition calls "redundant background checks and duplicative fees" to obtain certain security credentials.
The American Trucking Associations, Truckload Carriers Association, Owner-Operator Independent Drivers Association, National Tank Truck Carriers and the National Private Truck Council are among the groups who penned a letter to U.S. House and Senate members Monday.
The letter calls on Congress to pass the Transportation Security Administration Security Threat Assessment Application Modernization Act, which would allow truck drivers and other transportation workers to use one valid TSA background check to enroll in multiple TSA programs, including the Transportation Worker Identification Credential (TWIC) and the hazmat endorsement. The bill has been introduced in both the House and the Senate.
The act "is a long overdue solution for essential workers like truck drivers, pipeline operators, longshore workers and warehouse managers, among many others, who must obtain these credentials as a condition of employment," the coalition said.
ATA chairman urges lawmakers to address inflationary issues
American Trucking Associations Chairman Harold Sumerford Jr. today urged members of the House Transportation & Infrastructure Committee to address areas of inflationary pressure on the trucking industry: congestion, fuel prices, and labor shortages.
Sumerford, CEO of J&M Tank Lines, Birmingham, Alabama, spoke to Republican committee members during a roundtable on inflation, presenting three areas Congress should focus on: investments in physical infrastructure, fuel costs and workforce development.
In the wake of last year's bipartisan infrastructure bill, Sumerford said Congress should prioritize investments in roads and bridges that enable maximum utilization of trucking capacity to ensure that goods get to market at the lowest possible end cost for consumers.
Sumerford also advocated for an "all-of-the-above approach" to reducing fuel costs, noting that diesel prices are $2 per gallon higher than they were just a year ago.
Finally, Sumerford urged Congress to focus on workforce development initiatives to both address the need for drivers and help the trucking industry keep pace with increasing freight demand.
ICYMI
Reno-based carrier acquires 250,000 square-foot warehouse
ATRI study: Pay's important to young drivers, but so are other factors