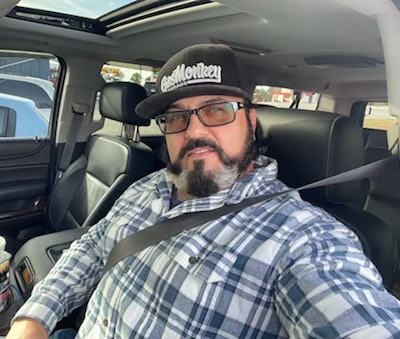 A South Carolina trucker has been honored for rescuing the victim of a motorcycle crash.
The Truckload Carriers Association has named Richard Wade from Aiken, South Carolina, a Highway Angel for rescuing a man whose motorcycle crashed and went down a 100-foot ravine. Wade drives for Purdy Brothers Trucking in Loudon, Tennessee.
TCA explains:
On May 21, around 1:30 p.m., Wade was traveling North on Interstate 81 near New Market, Virginia, when he noticed a group of Christian bikers traveling together. After they passed Wade in his truck, he saw the bike in the back having mechanical problems.

"The whole front end just gave way and it pulled him into the guardrail, on the left-hand side of the road," Wade said. "Its tire just folded indeed, and the bike flipped — it threw him over the rail and down into the gorge."

Previously, Wade had a long career in law enforcement, fire services, and as an EMS medic in an ambulance, and his training instantly kicked in. "I just did what I knew how to do," he said.

Without a moment to spare, Wade safely stopped his truck, called 911, and climbed down the embankment to offer aid. "When I saw it happen, I feared the worst for the guy, but I also knew I could help him," said Wade.

The crash victim had severe injuries, and Wade communicated the man's condition to the 911 operator. "His head was facing down the hill with his legs up toward the hill and his left leg was completely torn back," said Wade, adding that the man's left leg "was twisted like a corkscrew" and he was bleeding out. Other passersby stopped to help and Wade led the effort, creating a tourniquet and keeping the crash victim talking. "I just threw all caution to the wind," he said. "It's in my nature to run toward a fire."

Wade stayed with the rider, helping him stay awake while waiting for Life Flight and EMS to arrive on the scene.
TCA has presented him with a certificate, patches, lapel pin, and truck decals. The company has also received a letter acknowledging him as a Highway Angel.