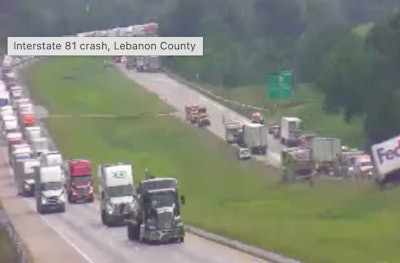 PennDOT traffic camera
At least seven tractor-trailers were involved in one of three separate crashes that included over 30 vehicles on Interstate 81 Thursday afternoon.
The collisions occurred along a two-mile stretch of southbound I-81 between mile markers 86.5 and 88 in Lebanon County, which is located northeast of Harrisburg.
Pennsylvania State Police said heavy rains passed through the area at the time of the collisions.
WGAL reports the three crashes involved a total of 34 vehicles: one crash involved 13 vehicles, the second involved13 vehicles, including seven tractor-trailers, and the third crash involved an additional eight vehicles.
No fatalities were reported but 12 people were injured and transported to a hospital.
I-81 southbound was closed for much of Thursday evening.