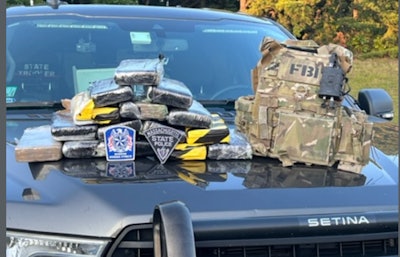 Massachusetts State Police, federal agents, and members of a joint task force on Monday apprehended two Mexican nationals who brought 15 kilograms of cocaine into the state from Mexico in a tractor-trailer.
The two suspects were arrested after surveillance officers observed a narcotics transaction at the Ludlow Service Plaza. Gerardo Quintero, 23 of Culiacan, Mexico, and Joel Enrique Armenta Castro, 30, of Mochis, Sinaloa, Mexico, were taken into custody by police. Both have been charged with trafficking in 200 grams or more of cocaine and conspiracy to violate drug law.
As a result of this operation, approximately 15 kilograms of cocaine were seized, along with the tractor-trailer Quintero was driving. The current estimated street value of the drugs is more than $500,000.
The arrests stemmed from information developed through an FBI investigation, that two Mexican suppliers were heading to Massachusetts to deliver a load of cocaine from Mexico. With assistance from the Massachusetts State Police's Commercial Vehicle Enforcement Section and Air Wing, along with the FBI Boston Division's Springfield office, investigators tracked the tractor-trailer to the Ludlow Service Plaza. After witnessing an exchange of narcotics between Quintero and Castro, police took Castro into custody. A short time later, Troopers stopped the tractor-trailer operated by Quintero on Route 91 South in Longmeadow and took him into custody.
The defendants were arraigned and held without bail pending dangerousness hearings scheduled for Sept. 2.