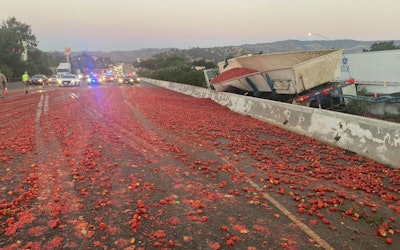 California Highway Patrol, Solano County
Several lanes of Interstate 80 in Vacaville, California were closed for part of Monday morning when a tractor-trailer crashed, covering the highway in tomatoes.
The California Highway Patrol reports the truck crashed into another vehicle near the Davis Street onramp, causing the driver to lose control, and hit the center divide. Hundreds of pounds of tomatoes were spilled onto the highway. CHP reports vehicles trying to pass through the spilled produce also crashed into each other, though no major injuries have been reported.
The driver of the big rig and two other individuals were treated at a hospital.
Nevada logistics company's new program recognizes veterans' service time
Reno, Nevada-based ITS Logistics, today announced its Veterans Trucking Program, established to reward veterans for their service by counting the years of their military career towards their starting pay as a driver.
For veterans with a commercial driver's license 100% of a veteran's time in the military (up to 20 years) will count towards their overall driving tenure and commensurate pay level. More than 13% of the ITS truck driving workforce are military veterans who are being paid for their experience, according to a statement from the company.
ITS will recognize the program by co-hosting "Wreaths Across America" along with the Nevada Trucking Association on Friday, Sept. 2 at Greater Nevada Field, home of the Reno Aces, prior to their Pacific Coast League game against the rival Las Vegas Aviators.
"Veterans are part of the culture at ITS Logistics for countless great reasons, including their logistics and operational experience in moving equipment and materials across military bases, unfamiliar foreign locales, and even active war zones," said Ryan Martin, President of Asset Operations. "These veterans have situational awareness, mental endurance, self-discipline and are extremely dependable drivers. It's an honor for us to provide this incentive to use their military skills to serve ITS customers."
ICYMI
FMCSA names 16 members to newly-formed advisory board of women
NYC cracks down on illegal parking; trucking group says there's nowhere else to park
Would you fill out an application for a job with a company you've never heard of before?