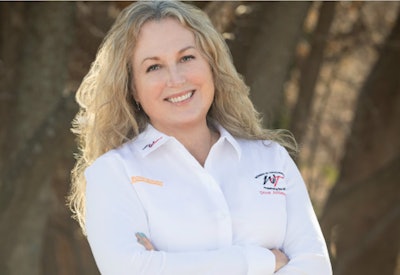 The Federal Motor Carrier Safety Administration today announced the appointment of the first members to the Women of Trucking Advisory Board, which was created to recruit, retain, support, and ensure the safety of women commercial motor vehicle drivers.
The Women in Trucking Advisory Board includes 16 founding members, all women, with diverse backgrounds and experiences to provide balanced points of view on addressing the challenges facing women in the industry, according to a statement from the FMCSA. Of these members, five are current CMV drivers and four are former CMV drivers, others are trainers, executives and authors.
WOTAB's launch was mandated by the Bipartisan Infrastructure Law and is part of the Biden-Harris Trucking Action Plan that is focused on improving job quality and recruiting more people into the truck driving profession.
The members of the advisory board include:
Anne Balay, organizer with the Service Employees International Union. Balay has held numerous academic positions at various universities and has worked as an over-the-road commercial driver and car mechanic. She is the author of numerous peer-reviewed papers and two books, Steel Closets: Voices of Gay, Lesbian, and Transgender Steelworkers (2014) and Semi Queer: Inside the World of Gay, Trans, and Black Truck Drivers (2018), for which she was a finalist for the Lambda Literary LGBTQ studies category. Balay holds a PhD in English from the University of Chicago.
Jerri Banks, Owner of Life on the Road Recruiting and Transportation Services. Banks has 25 years of experience in the transportation industry. For the past five years she has owned LOTR Recruiting and Transportation Services, a third-party truck driver recruitment agency. LOTR specializes in helping drivers who have Drug & Alcohol Clearinghouse violations receive a second chance and return to duty. Banks is vice president of SHE Trucking Foundation, Inc. and volunteers at the Houston D1 Hornets youth program, teaching compassion and leadership through basketball.
Elisabeth Barna, Executive Vice President, American Trucking Associations. Barna has represented the trucking industry for 32 years. She has worked directly with women professional truck drivers through ATA's safety and education programs like the America's Road Team, Share the Road and the Workforce Heroes program. As part of the 100th anniversary of the first woman to vote, Louisa Swain, she created and managed a cross-country tour with a special decaled tractor-trailer and four women professional truck drivers behind the wheel. Barna spearheads the ATA's new Women in Motion campaign, which focuses on empowering women in all careers in trucking, recruiting women into the industry, and amplifying the positive aspects of joining the industry. A member of the Trucker Buddy executive committee and Truckers Against Trafficking Board of Directors, Barna earned her BA in Communications, Business, and Human Resources Management from Marietta College.
Joyce Brenny, Brenny Transportation, Inc. and Brenny Specialized, Inc., Founder and President. Brenny entered the trucking industry behind the wheel of an 18-wheeler in 1981. Today she runs two companies, one of which is a Certified Women's Business Enterprise. Brenny has held numerous leadership positions, including serving on the Board of Directors of the Minnesota Trucking Association, where she was the first woman chair in 2012. A life member of the Owner-Operator Independent Drivers Association, Brenny is president of St. Christopher's Driver Relief and Development Fund, which helps truck drivers in need. She was named Most Influential Woman in Trucking by Women in Trucking, and her young driver apprentice program has received two innovation awards.
Enjoli DeGrasse, International Brotherhood of Teamsters, Deputy Director. DeGrasse has diverse industry and safety experience. In her current position she is a regular presenter at the Teamsters annual women's conference, is a subject matter expert on safety and health, and regularly provides the Teamster perspective in written comments to OSHA, Federal Aviation Administration and DOT proposed rulemakings. DeGrasse holds an MPH from Tulane University, is a certified industrial hygienist, and serves in a number of advisory positions including on the National Institute for Occupational Safety and Health Board of Scientific Counselors.
Marie Druckenmiller, Amazon, Director of Transportation. Druckenmiller has 24 years' experience in the transportation industry, holding a wide variety of positions in over-the-road operations, logistics, under-the-roof operations, DOT regulations, and safe driving certifications. At Amazon, Druckenmiller has championed the Women in Transportation affinity charter for the last 5 years, sponsoring a female-focused initiative to send Amazon Associates to CDL training. She is a board member of Women in Trucking Association and holds a BS in Kinesiology from California State University, San Bernardino. Druckenmiller is involved in a variety of charities including the Susan G. Komen Brest Cancer Foundation, the Special Olympics, and the Ronald McDonald Houses of Loma Linda, California, and Pittsburgh.
Erin Ducharme, CFO, H&L Bloom/Bloom's Bus Lines. Ducharme became CFO of H&L Bloom, a third generation family-owned motorcoach and school bus company, in 2021, where she oversees its customer service, marketing, and tour divisions. She served previously as Director of Accounting and Finance and has been with Bloom since 2007. Ducharme chairs the American Bus Association (ABA) Women in Buses Council and serves on the Diversity, Equity, and Inclusion Committee, Marketplace Advisory Committee, and chairs the Education Committee. As chair of the Women in Buses Council, she leads the Driving Force Taskforce. Ducharme earned her MBA in Accounting from the University of Massachusetts and her BA from Assumption College.
Laura Duryea, Boyle Transportation, Manager of Recruiting, Retention, and Driver Development. Duryea has more than 25 years of professional driving experience in addition to holding other positions as a delivery driver, dispatcher, supervisor, Smith System Trainer, and training programs creator. She is a member of Women in Trucking, serving on the Content Advisory Council, as well as being a member of the organization's Experience Committee and Membership Committee. She holds a BFA in Viola Performance from Carnegie Melon University and is involved with the First City Pride Center on the Events Committee and as a youth group volunteer.
Marquita Jones, J.B. Hunt, Intermodal Driver. Jones has 14 years' experience driving both commercial trucks and buses. At J.B. Hunt, Ms. Jones operates a 15-ton truck over long distances and trains new drivers. Prior to this position, she worked for the Chicago Transit Authority, where she operated both trucks and buses, and conducted charted trips and sightseeing tours. Jones regularly mentors and supports women looking to enter the commercial motor carrier industry
Kellylynn McLaughlin, Schneider National Inc., Professional Driver. McLaughlin drives and trains new drivers for Schneider and is a Driver Ambassador for Women in Trucking, who named her an Influential Woman of the Year finalist in 2019. She has served on a number of industry committees, and among other positions is a member of FMCSA's Motor Carrier Safety Advisory Committee Driver Subcommittee. McLaughlin has appeared as a guest on a number of radio, podcast and news articles focusing on trucking industry.
Dianne McNair-Smith, 3 Girls Trucking Academy, CEO. McNair-Smith has over 40 years of experience in the trucking industry as both a driver and CDL instructor. Following her passion for providing opportunities to people looking to better themselves, she opened her own trucking school, 3 Girls Trucking Academy, in 2020. 3 Girls Trucking Academy is the only trucking school in Magee, Mississippi, and the only African American woman-owned trucking school in the state of Mississippi.,McNair-Smith also owns her own trucking company and has given over 50 scholarships to individuals throughout the state of Mississippi.
Sharae Moore, Founder/President, SHE Trucking Foundation. A professional truck driver and owner-operator, Moore has been driving since 2014. She leads a Facebook community of more than 30,000 professional minority women in the transportation industry. CNN selected Ms. Moore as a Champion for Change. Additionally, she was chosen as a Legend Driver by National Truckin' magazine and received the Trucking Industry Trailblazer Award for Diversity and Inclusion. Moore authored Building a Legacy: How I Create a Life-Changing Legacy in the Trucking Industry. She advocates bringing more women and minorities into the transportation industry.
O'Sheauna Parker. Parker has five years' experience and over one million miles on the road as a CDL driver. She began her career in Springfield, Illinois, and is now based in California and drives for Haul. Parker has gained work experience in port, less-than-truckload, full truckload, over-the-road and with the U.S. Postal Service. Parker has applied to be a CDL trainer and is training to become a pilot.
Emily Plummer, Prime Inc., Professional Driver. Plummer has 23 years driving for Prime, where she also trains drivers new to the industry. She currently serves as a team driver with her husband across the lower 48 states. Aside from a Class A CDL, Plummer also holds tanker and hazmat endorsements, and has served on the Prime Inc. Driver Advisory Board.
Soledad Munoz Smith, Munoz Trucking. Smith has more than 10 years of experience in the transportation and logistics industries. For the past three years she has held the position of Vice President of Operations at Munoz Trucking Inc., a minority family-owned business in El Paso, Texas. Her current responsibilities include overseeing the management team responsible for four departments including safety, dispatch, maintenance, and payroll. Smith also serves as a director on the board of directors for the captive insurance policy for Cottingham & Butler. She earned a BS in Clothing, Textiles, & Fashion Merchandising with a minor in Business Administration from New Mexico State University.
Nicole Ward, Co-owner, African American Women in Trucking Association. Ward co-founded Capital Freight, LLC, a trucking and logistics company with her mother in 2021. She has 18 years of experience in the insurance industry before transitioning into transportation and two years ago began developing procedures and policies for her own company that were useful within the trucking industry. In 2022, Ward founded the African American Women in Trucking Associationnon non-profit organization. She holds an associate degree in Business from Valencia College and a BA in Business Management from the University of Phoenix.