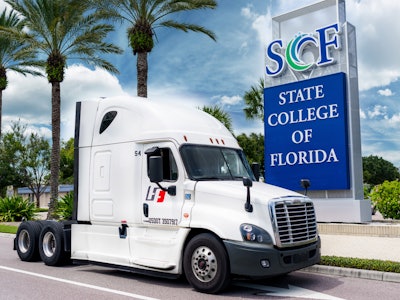 FleetForce Truck Driving School today announced the opening of its newest training facility in Venice, Florida.
Students enrolling in the CDL school can attend tuition-free through a unique pre-hire program, which is a collaboration between FleetForce, the Florida Trucking Association, and the State College of Florida, Manatee-Sarasota. Trucking companies that are FTA members pay the tuition costs upfront, with an agreement to hire the student once they complete the course and receive their CDL.
The Venice location is on the campus of State College of Florida, Manatee-Sarasota, and is the second program launched in collaboration with the college. This is the company's fourth location in Florida — with multiple new sites scheduled to open around the state over the next year.
"Truck drivers continue to retire faster than the industry can replace them, which essentially guarantees our students a job once they finish the program," said Tra Williams, president and CEO of FleetForce. "For many potential new drivers, however, the cost of getting their CDL keeps them from entering the industry. This program allows students to attend tuition-free and leave with a job offer in hand."
The tuition-free program is available at all FleetForce locations and has been successful in recruiting more students into the trucking industry, with more than 5,000 aspiring drivers having applied since the program launched last year.