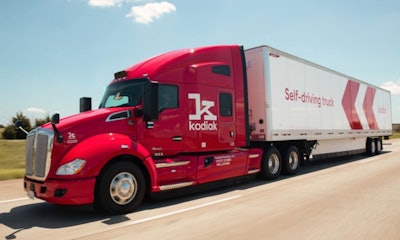 Pilot Company recently announced a strategic partnership with Kodiak Robotics, Inc., the self-driving trucking company, to develop autonomous truck services at Pilot and Flying J travel centers.
Pilot Company and Kodiak are creating an autonomous truckport in the Atlanta area to evaluate potential service offerings and explore scalable solutions, according to a statement from the two companies. These services will include:
providing space to pick up and drop off autonomous truckloads
conducting inspections
maintaining and refueling trucks
transferring data for processing, such as feature development and mapping
To strengthen the ability to work together, Pilot Company has invested in Kodiak and will join the company's board of directors.
"Pilot Company is committed to providing best-in-class service to its customers today and going forward," said John Tully, vice president of strategy and business development at Pilot Company. "In making this strategic investment, we understand that our customers have a need for real solutions that help address the growing demand to move goods and Kodiak is a strong leader in the autonomous trucking space."
Scholarships available for women in trucking industry
MOTOR Information Systems, a Troy, Michigan-based supplier of automotive repair data in the U.S. and Canada recently announced the MOTOR Career Advancement Scholarship for Women, offered in conjunction with the Women In Trucking Foundation.
Three scholarships will be granted to women who work as technicians or drivers within the heavy-duty trucking industry, helping them further their careers via continuing education in training facilities.
Entries for the MOTOR award will be evaluated based on applicants' financial need and their desire to further their careers in the trucking industry. Applicants must complete an application form and submit a short essay describing their future goals as trucking technicians or drivers and how the MOTOR Career Advancement Scholarship for Women will help them reach those aspirations.
Applications are open through September. For more information, visit the Women In Trucking Foundation's scholarship page.
ICYMI
NYC cracks down on illegal parking; trucking group says there's nowhere else to park
Bill requiring bathroom access for truckers stalls in PA committee
Free fuel giveaway part of Driver Appreciation Week celebration