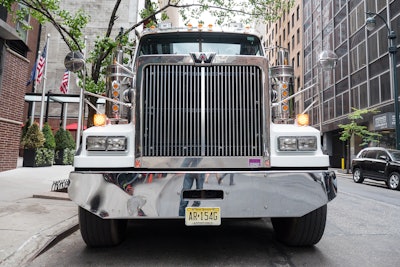 pio3 / Shutterstock.com
New York City is cracking down on illegally parked commercial vehicles, and the state's trucking association has responded.
New York City Mayor Eric Adams and the New York Police Department announced operation "Heavy Duty Enforcement," an overnight action against illegally parked commercial vehicles in neighborhoods of southern Queens. According to a statement from the mayor's office, this multi-faceted effort is in response to community complaints and consists of three teams utilizing heavy tow operations, booting, and writing tickets.
Beginning on Monday, Aug. 15, operation "Heavy Duty Enforcement" deployed NYPD officers traffic enforcement agents to multiple locations across southern Queens. In the first five days of the operation — from Aug. 15 through Aug. 19 — the NYPD issued 597 summonses, attached 89-wheel clamps, and towed 55 illegally parked vehicles to a temporary storage facility.
"If you park commercial vehicles illegally, you will get ticketed, towed, or given the boot," said Adams. "For far too long, large commercial vehicles have been parking illegally in this neighborhood, disrupting daily life, and contributing to noise, traffic, and pollution. We cannot let our neighborhood streets turn into illegal parking lots. I want every New Yorker to know your city is looking out for you and your quality of life."
According to section 4-08 (k) (6) of the New York City parking rules, large commercial vehicles are prohibited from parking on residential streets overnight between the hours of 9 p.m. and 5 a.m. seven days a week.
The Trucking Association of New York says the problem can be solved, not by issuing tickets and towing trucks, but by creating more truck parking.
Kendra Hems, president of the association responded to the city's actions.
"While we in no way condone parking on residential streets where it is illegal to do so, we feel it is imperative to understand we cannot ticket out of this problem," said Hems in a statement posted to the TANY Facebook page. "Heavy enforcement alone has not worked in the past and will not work now absent available commercial vehicle parking. The reality is that drivers, many of them our neighbors, family, and friends, simply have nowhere to park. This is not their personal vehicle, but the vehicle that embodies their livelihood and provides for their family.
"That is why the city must address the underlying issue of inadequate truck parking in all five boroughs. The industry is taking steps, but we cannot do this alone, we need our partners in government to dedicate the time and resources to resolve this problem. The industry must be part of this process and we are eager to work with the administration to finally find meaningful, long-term solutions that benefit all New Yorkers, drivers included."